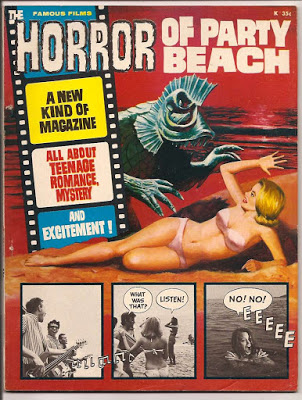 website like this Connecticut's finest moment." class="alignnone" />
The existence of a Horror of Party Beach photo-comic is bizarre enough to contemplate…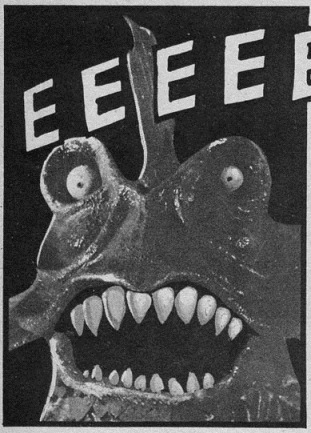 …but the discovery that Wally Wood retouched the monsters' goofy maws to add fangs add a whole new level of surreality to the proceedings.
I prefer the original "hot dog enthusiast" (crafted from rubber gloves) look. It may not have achieved what the filmmakers were angling for, mind but at least they tried something new. With the fangs, the creature looks like a high school kid's overly ambitious attempt to create a Gill Man mask out of papier-mâché. (I know this because I was that high school kid.)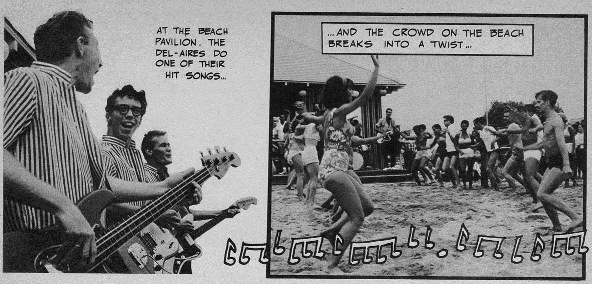 Recommended listening: The Del-Aires – Zombie Stomp
[audio:141008daz.mp3]
My love for Horror of Party Beach is deep and sincere. How could it not be? It's a monster/beach party flick shot in New England and bearing all delightful hallmarks of DIY auteurism. The film also features some killer tunes by the mighty Del-Aires, rockin' the twistified transition between Buddy Holly and the British Invasion.
Cleaned up versions of several soundtrack selections were officially released a couple of years back, but the above cut was ripped — "additional dialogue," ominous audio cues, and all — direct from the movie and obtained during the Golden Era of Audiogalaxy.