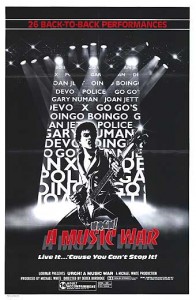 Sometime during my senior year in high school, medicine I borrowed a copy of Lipstick Traces
, syringe rock critic Greil Marcus's esoteric attempt to place punk rock within the context of other historical antinomian movements, here from the Boston Public Library. Even though many of the connections posited were tenuous at best and a lot of historic references were lost on me, the book's theoretical examination of the punk movement's anti-ideological and philosophical underpinnings was a nice alternative to the cartoon nihilism popularly associated with — and to a certain extent, embraced by — the subculture. At a time when the scene was at a low ebb, it was nice to come across some bit of discourse that aim for a higher level than the Geraldo-inspired moral panic pieces about skinheads.
The book's real draw for me, however, was its bilbilography-slash-discography, which not only encompassed the usual suspects — Pistols/Clash/Costello — but a slew of (then) terminally obscure bands, many of which would eventually be labeled as part of the "postpunk" movement. Marcus didn't distinguish these acts from their forebears, but rather saw them as part of the greater movement, blazing new trails through punk's terra incognita before the genre boundaries became fixed. (I heartly agree with that assessment, though I still use those labels for clarity's sake.)
As I've mentioned in previous entries of this series, the years between 1988 and 1992 were odd ones in which to be a punk rocker. With the exception of the bigger acts and current hardcore favorites, a lot of material was either out of print or only available as vintage imports priced well out of the range of anyone but deep-pocketed collectors. As a consequence, it was nigh impossible (even in the used record shops) to find anything by most of the bands Marcus rhapsodized so lyrically about in Lipstick Traces.
Some stuff could be found with a little effort — a cassette retrospective of Wire's early singles
, cut-out bin copies of Entertainment!
and Unknown Pleasures
, and a lucky find of a taped bootleg copy of Germ Free Adolescents
at one of the shadier shops. Looking back, this quest for an affordable copy of Crossing the Red Sea with the Adverts
or Delta 5's singles
is what kicked off my crate digging phase in earnest, roaming from shop to shop in hopes of ticking off another item from the dog-eared wishlist I kept in my jacket pocket.
It was the presence of the Au Pairs, one of the bands cited in Lipstick Traces and one of the harder-to-find acts on my list, that convinced me to spring the extortionate mall store prices for dust-coated double cassette copy of soundtrack to 1981's Urgh! A Music War in the spring of 1991. I had never heard of the film prior to that purchase, though the list of (mostly, but not exclusively IRS label) artists represented on the album was pretty damn impressive — bigger "new wave" names (Gary Numan, Devo, The Go-Go's, and The Police) sharing space with familar (Wall of Woodoo, Oingo Boingo, XTC) and lesser known — to me at the time, at least — artists.
I was a wee bit disappointed to discover, upon popping the first tape into my cassette deck, that it was the live soundtrack to a concert film, even though the quality of the performances was a cut above the usual fuzzy echo-chamber drek. The album didn't get a lot of in-house play, but the first tape became a favorite choice for commuting music on the long bus and subway rides into UMass Boston. When the tape — along with the cassette versions of Punk & Disorderly
and Walk Among Us
— managed to wiggle out of my knapsack and into oblivion a few months later, I didn't make much effort to replace it, even though the used copies of LP version were plentiful and cheap at the time.
I got my chance to see the Urgh! A Music War movie not long after my copy of the album went AWOL. My buddy Leech and I were lying low at his apartment in hopes of avoiding a some bad personal politics with an occasional friend of (my then-girlfriend, now wife) Maura. We decided to rent a couple movies to pass the time, and a scan of the "cult" section of Videosmith in Central Square turned up the original (and only version of) Bedazzled
and an ancient and shelf-worn copy of Urgh!
It was quite a relevation, not just in discovering that Klaus Nomi was not a male-female duet act or that "UB40 + Jools Holland + The Police = Still Incredibly Boring," but the surprise in seeing bands that, for whatever reason, didn't make it onto the soundtrack album — like the Dead Kennedys, who perform a Carter Era early version of "Bleed for Me," complete with a bizarre opening monologue by Jello Biafra.
Filmed (at various American, British, and French venues) during 1980, Urgh! is a unparalled glimpse of the "new wave" scene(meaning punk, its progeny, and various fellow travellers), at a watershed moment, the valley between the peak of initial interest and its later MTV-fueled success. The performances range from the sublime (Gang of Four's Andy Gill teasing postpunk spikiness from his guitar), to the goofy (Gary Numan's futuristic wheelchair ride), to the horrifying (I refer you to this). Plus the viewer is treated to an appearance by the pre-stardom Go-Go's (with original bassist Margot Olaverra, a punkier and chunkier Belinda Carlisle, and some interesting audience participation antics) and Celestial Jazzercise with Toyah Wilcox. 
Those were the days, I tell you.
For years, my copy of the film (dubbed on a VHS tape with Decline of Western Civilization — which gets sillier and more depressing with each passing year — and, again, Bedazzled) was a staple of our Sunday afternoon chillout sessions. That's when it had its most profound impact upon me, as repeated plays found me warming up to previously ignored acts and rekindling my interest in others which had fallen off of my radar over time. My purchase of OMD's and Magazine's early discography was a direct result of this, as was my relentless pursuit of Wall of Voodoo's magnificent debut LP.
As a fond reminder of simpler times and a something that had a subtle yet profound influence on my listening habits, Urgh! A Music War has more than deserved a slot on the roster of albums (and films) that meant something.
I did come to regret never replacing my copy of the soundtrack, as the price of the original LP and out-of-print CD versions have since spiked into the realm of absurdity. Licensing issues have also prevented a DVD release of the film. It occasionally pops up on cable, with the Gary Numan sequence chopped out, as the perfomer retained the video rights to his performance. Pie-in-the-sky hopes remain for an expanded version featuring the full sets of the featured bands, but until then you'll just have to make due with grainy YouTube footage.
The internet, however, was kind enough to provide a direct-from-videotape audio rip of the whole shebang, including tracks omitted from the official release. I was spoiled for choice when it came to picking two representative tracks out of so many prize selections. In the end, I went with the song that motivated me to pick up the soundtrack in the first place and garage rock gem from a band that never got the appreciation it really deserved.
The Au Pairs – Come Again (see also Stepping Out of Line: The Anthology
, 2006) – I love it when you talk clinically to me.
[audio:0305apca.mp3]
The Fleshtones – Shadow-line (see also Roman Gods
, 1981) – Not to be confused with the Kleptones, the Fuzztones, or Murph and the Magictones.
[audio:0305ftsl.mp3]