There are ten days left until Halloween, population health so it's time to put the Jack O'Lantern on display…
Not to be confused with his villainous namesake(s) on the Marvel side of the aisle, more about DC's Jack O' Lantern made his debut in Super Friends #8 (November 1977). A member of the kid-friendly series' contingent of international supporting characters, Jack was supposed to represent Ireland…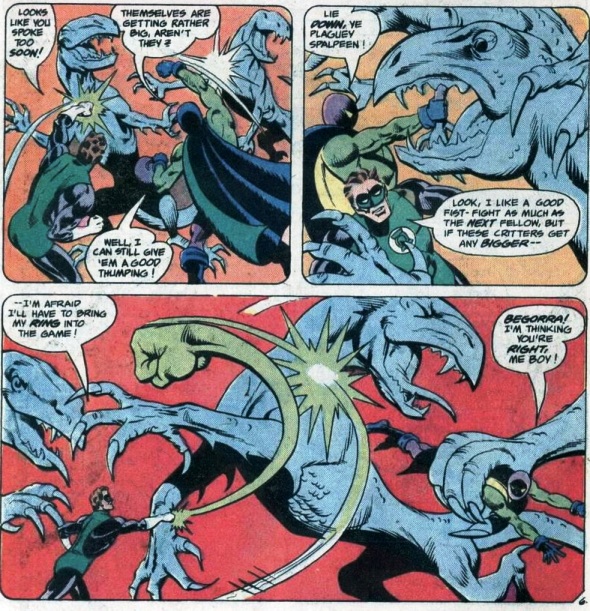 …or rather "the agglomeration of broad generalizations and laughable slang to which the Emerald Isle has been reduced by the American entertainment industry."
Jack's heroic journey began when he was a young farmboy in County Cork who fell into the good graces of the fairy folk. As a reward for his services to Ireland's supernatural residents, Jack was given a magic lantern by the Faery Queen Maeve and tasked with protecting and upholding his nation's proud legacy of being a bunch of drunk, potato-eating yokels who punctuate every sentence with idioms like "boyo" and "saints be praised."
The character's supporting appearances in Super Friends led to a trio of solo back-up stories which existed mainly so writer E. Nelson Bridwell could showcase his imperfect knowledge of Celtic folklore and send Jack (and his leprechaun sidekick Fergus) on adventures involving banshees and Balor of the Evil Eye and the Blarney Stone and the Little People and faith an' begorrah, 'tis Mrs. Murphy herself bringing a grand pot o' corned beef and cabbage.

My wife is the daughter of hard-working Irish immigrants from Counties Cork and Sligo. She really, really, really hates Jack O'Lantern.
Jack later crossed over into the DCU proper as a member of the Global Guardians superteam. After that conglomeration of caricatures was disbanded, an embittered Jack fell under the sway of the Queen Bee during her "Bialyan" (you're clever kids, you can figure it out) dictator incarnation. He was killed off, resurrected, and killed off again before being replaced with a identically empowered relative who served as a found member of Primal Force (which has only escaped the Nobody's Favorite treatment because of my friendship with Mark Hale).
An embarrassing attempt at diversity from a 70s kid-oriented funnybook recast as the murderous lackey of an oh-so-1980s Middle Eastern despot? You can drop that depressing little article in the "What Went Wrong With Superhero Comics" subfolder of the overstuffed circular file known as Nobody's Favorites.
Recommended listening: Roger Roger – Jack O'Lantern (from a 1961 library music LP)
[audio:131021rr.mp3]
It was tough finding a track that matched the spooky seriousness of the character, but I believe I've succeeded.