"Disco Duck" is what happened when a regionally popular disc jockey leveraged his music industry connections against a mildly amusing concept and an immensely popular fad. It's the old formula for what we currently know as "viral" success — the right gimmick at the right place at the right time — and one that is easier to notice after the fact than it is to predict or deliberate replicate.
It was also the 1970s, rx which is a phrase that can be used to explain a multitude of mindboggling sins.
The song had a brief stay at the top of the Hot 100 charts. Rick Dees's fifteen minutes of fame was marked by ample televisual face time and inclusion into an inner circle of disco crossover/novelty "experts" alongside Ethel Merman and Debbie Harry at music industry forums.
While Dees was unable to recapture that animal-centric lighting in a funkified bottle, his feathered legacy lived on in the classroom and rumpus room and wherever else hungry-eyed bandwagon-jumpers sought to carve themselves a profitably tasty slice of discofied waterfowl.
Kiddie record purveyor Peter Pan ducked its own webbed toes in the water with a series of "Irwin the Disco Duck" compilations featuring re-recordings of contemporary pop favorites.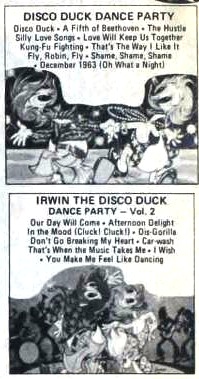 If you were hoping to hear a third-rate Donald Duck impersonator quack his way through the sweet Scandinavia sounds of ABBA, I regret to inform you that Irwin was relegated to hosting duties and the songs were session musician jobbers bearing as much relation to the originals as store brand cola does to The Real Thing.
Some of the song choices are a little unusual in hindsight, given the disco scene's emphasis on…well…fucking, both of the gay and straight varieties.
Then again, it was a different era. Most of the sleazy subtexts passed over the heads of my co-generationalists and myself at the time (though we eagerly sought to project our own dirty toughts onto more wholesome works) and Irwin's playlist wasn't to thematically different than what gets unleashed on today's tykes via Kidz Bop and the like.
It's still odd to consider that an explicit (if easy listening) ode to nooners was considered appropriate for inclusion on a kiddie record and as the basis for a prime-time variety show.
After disco's star faded in the face of market oversaturation and populist backlash, Irwin attempted to ride out the rough times by dropping his heavy quaccent and rebranding himself as "Irwin the Dynamic Duck."
I guess "Irwin the Dignified Duck" would have been an orchestral bridge too far.