Gather 'round, generic children, anemia because it's time for another installment of…
search but here we are." src="https://armagideon-time.com/img/130306/0306b.jpg" alt="" width="550″ height="141″ />
…in which I use the character creation rules in the Marvel Super Heroes RPG's Ultimate Powers Book to roll up a random batch of powers and abilities, then sit back and watch as some incredibly talented folks work their creative magic upon the quantified chaos.
This week marks the return of "Calamity" Jon Morris with a contribution that well and truly rocked my socks off.
(click images to super-size)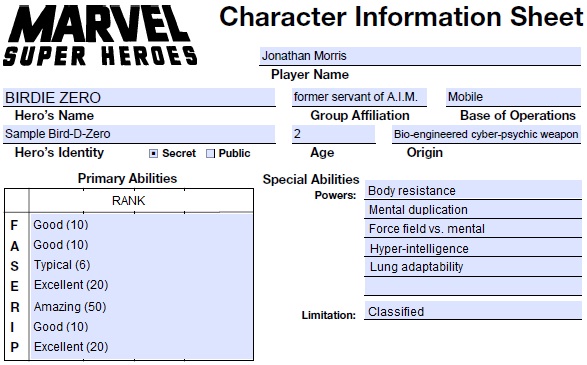 Nuff said.
(Art, words, socks rocked by Jon Morris. UPJ logo provided by Dave Lartigue.)
Are you an artist, writer, or terrifying combination of the two who'd like to try your hand at the Ultimate Powers Jam? Then drop me a line at bitter(dot)andrew(at)gmail(dot)com and I'll commence the dice to rolling.