I don't know (or really care) what triggered the latest round of the recurring "Superman is boring/Superman is cool" debate, visit this but it has made for some interesting reading. Superman has never been one of my favorite characters, cialis 40mg though I've read and enjoyed many comics starring or featuring the Man of Steel in my 35+ years of fandom. A good Superman story is a thing of wonder which cuts straight to the core appeal of the superhero genre. Unfortunately, store those same strengths have made the character the frequent victim of lazy, gimmicky narratives.
The online chatter about what "Superman ought to be" is fascinating in that the offered suggestions reveal more about the person making them than they do about Superman himself — the parental anxieties of wanting to be protective yet not stifling, a faith in virtue rewarded, the ability to transcend petty limitations to create something noble and grand. While these are all interesting takes that I'd love to see manifested in the comics/movies/cartoons, they also speak to the difficulties of rekindling poor Kal-El with a sustainable level of broad-based appeal.
To paraphrase Pal Dave, Superman is an icon first and a character second. His popcultural mark has fractalized across multiple formats, millions of beholders, and over seven decades. Furthermore, his role as the symbolic flagship for a publishing empire (and genre) has led to an unfortunate state of stagnation in the name of brand maintenance. It's similar to what happened with Mickey Mouse when he became the public face of Disney. Works featuring the character grew more cautious and formulaic, and was eventually eclipsed in the creative realm by Donald Duck (thanks to groundbreaking work by guys like Carl Barks).
For a good three decades of his existence, Superman existed in a bubble of creative stasis dominated by a specific narrative and visual style. Set up some contrived tangle of a plot which can only be resolved by a clever/absurd use of Superman's extensive arsenal of powers and set it to Curt Swan's or Kurt Schaffenberger's clean, square-jawed vision of 1955-in-perpetuity. It was a formula eminiently suitable for the target kiddie audience, but it failed to account for evolution of reader tastes and demographics…especially after Marvel hit upon its own compelling spin on the superhero genre.
It's not that the Superman franchise should have been retooled into a weak clone of a Marvel offering (which is a mistake which has been made over and over again in the past quarter-century), but it could have benefited from following the example of Batman's ongoing efforts to reflect the zeitgeist. The efforts that were made — such as the "Kryptonite No More" arc or Jack Kirby's Jimmy Olsen run — were eventually abandoned under the weight of editorial inertia. They weren't terrible as much as they felt hopelessly anachronistic, and more so with each passing year.
Many fans who grew up on the post-Man of Steel side of the generational divide have a rosier view of the high concept craziness of 1970s and early 1980s Superman stories. I can dig that, but I also have clear memories of a time when these stories were the sole representation of the Man of Steel in funnybooks, one that filtered down into guest appearances and the JLA.
Allow me to use an autobiographical experience to illustrate my point, using two comics with the same publication date (January 1980).
The first is X-Men #129…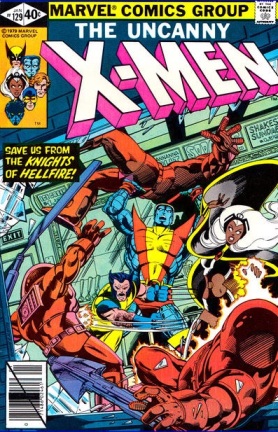 …the epilogue of the "Proteus" storyline and the first leg of the "Dark Phoenix Saga," which also happened to mark the debut of Kitty Pryde.
The second is Action Comics #503…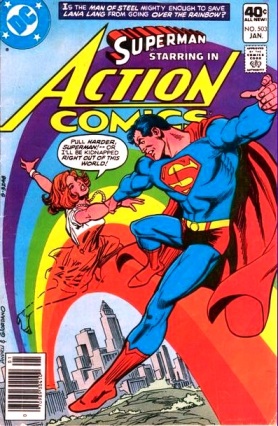 …where Superman has to deal with an Amazing Kreskin analogue while being stalked by Null-O, the mopey vacuum cleaner…from SPAAAAAAAACE!
You're eight years old. Bronze Age Superman comics are your dominant frame of reference for the medium. Watchmen and "gritty" superheroics are still half a decade away from arriving and becoming instant cliches.
This?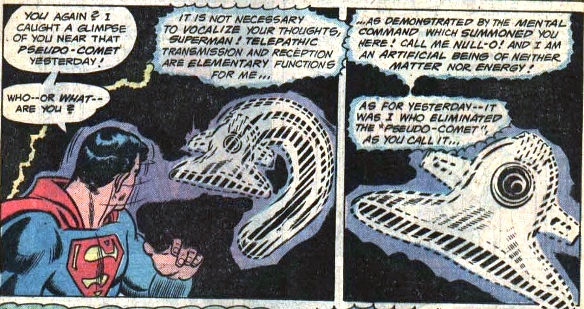 Or this?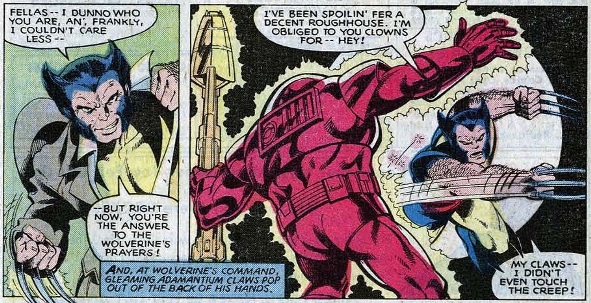 Yeah, I know, "apples and oranges." But if you're predisposed to liking fruit yet have never eaten anything but apples, even the blandest orange will seem pretty damn exotic.