I was cleaning out the mess of "out of sight, sale out of mind" junk I'd thrown in the bottom cabinet of my entertainment center a while back. Wrapped up in the tangle of busted joypads and old cassette tapes was the mourner's armband which came packed as a "collectable" extra in the 1993 Death of Superman special.
It belonged to my little brother, whose Marvel fandom was momentarily overridden by morbid curiosity and the blinding hypestorm which surrounded that event. (It wasn't enough to make him actually wear the armband to high school on the appropriate day, though he had a more suggestible pal who did.)
As much as DC sidestepped the worst excess of the Chromium Age, there's no incident that cuts to the sclerotic heart of that era in my mind as the publisher's decision to kill off and resurrect the Man of Steel. Between the cultivation of mainstream media publicity, the resulting rush to speculative purchases, and the vastly diminished returns it left in its wake, it's a depressing little snapshot of the moment when intoxication passed into desperation.
It also didn't help that the associated comics were overwrought and undercooked drek assembled to fulfill a laughable (and obviously ephemeral) publicity stunt.
The climax — in which Superman and the rejected mascot of some third-rate thrash metal band pummeled the shit out of each other until both keeled over from embarrassment — was limp enough, but the extended epilogue-slash-return-to-the-status-quo was downright tragic in its assumptions that passing hype abetted by a slow news week would translate into a lasting spike in sales.
Four potential "replacement Supermen" tooled around for a few months in complex and tiring dance of overlapping plotlines which tried to distract from the foregone conclusion of the real deal's resurrection.
It would have been bad form to return the Man of Tomorrow to his pre-death status quo without making some token gesture which acknowledged the trauma of that experience. You don't simply off a character who is not just a company flagship, but also a cultural symbol for superheroes in general, without doing something to recognize the gravity of event, right?
So how was post-rebirth Superman differentiated from his previous incarnation?
By the addition of a Supermullet, of course.
The comics industry's ill-advised appropriation of passing fashion trends is nothing new (see Mike Grell's Phantom Girl or any given Archie issue), but Superman's new Gretzkysian mane had the double misfortune of falling under another longstanding funnybook trope — namely, the extremely after-the-fact adoption of said trends.
Tony Stark's attempts at John Oates cosplay and the Beyonder's white boy Jheri curls may have been laughable, but they did reflect the prevailing popcultural zeitgeist. By the time Superman's post-demise 'do made its debut, the mullet had receded from its period of mass acceptance and lingered only within its traditional pro wrestler/lesbian/"new country" singer demographic strongholds.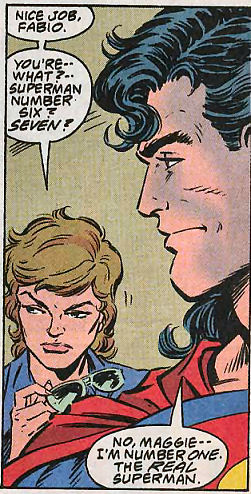 Maybe it's just me, but Superman's looks should evoke "truth, justice, and the American way," not "Drakkar Noir, an IROC-Z with a dented left quarter panel, and getting cornered in Sears Auto Zone lobby by a one-sided discussion about Joe Satriani's latest album."

The Supermullet turned out to be astonishingly resilient, surviving for nearly three excruciating years before abruptly vanishing during the Superman Red/Blue arc.
Though Superman's iconic design has undergone some fairly ludicrous (and unnecessary) changes over the past two decades, none have managed to evoke the mephitic echoes of that strange and horrible era where the only things separating the Man of Steel from Kenny G were a saxophone and a Todd Terry remix. For that reason alone, the Last Ape Drape of Krypton deserves a place in the cut-rate salon of Nobody's Favorites.