I used to be a big fan of the Champions role playing game back in the days when the Gipper sat in the Oval Office and Cutting Crew stood at the top of the pop charts. Where TSR's Marvel Super Heroes and Mayfair's DC Heroes games had licensed access to the rich tapestries of their respective fictional universes, hospital Champions had to make do with superior (and mathematically complex) game mechanics and a piecework campaign setting featuring familiar — yet non-actionable — organizations and archetypes.
Although the Champions folks attempted to weave these fragments into a rough approximation of a cohesive shared universe (complete with its own less than gripping funnybook title), they could never dispel the odd "off brand" aura which only grew stronger with each new effort to mirror the superheroic source material.
It was more that just the lack of historical-emotional context or generally subpar illustrations that accompanied these efforts. There was an inescapable sense of fandom twice removed and constructed around a reverse-engineered "superbeing" template:
[Civilian name] was [an occupation] who was exposed to [event or mental trauma] and thus gained the ability to [power or skillset]. Adopting the persona of [superbeing name], s/he has dedicated him/herself to [ethically appropriate motivation].
Throw in a "it'll do" sketch by some unsteady imitator of the current art style du jour, and you have pretty much any character from any non-licensed superhero RPG sourcebook.
It was as generic as it was soulless, yet not totally out of sync with the realm of "real" superhero comics. After all, how else would you explain the sad super-simulacrum known as Geo-Force?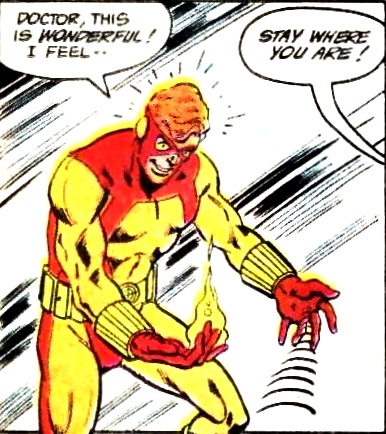 Brion Markov was a prince who was exposed to vague super-sciencey shit and thus gained the ability to tap into the power of the earth. Adopting the persona of Geo-Force, he has dedicated himself to slamming evil.
See what I mean?
Geo-Force was one of the key members of Batman and the Outsiders, a series which gained fleeting fame thanks to some fortuitous timing. Writer Mike W. Barr's willingness to (mildly) push the boundaries when it came to murderous protagonists and 1980s Cold War geopolitics felt like a radical break from the perceived stodginess of DC's status quo…as was the notion of Batman forming his own superteam after telling the Justice League to fuck off.
As the product of the Markovian civil war which brought the Outsiders together, Geo-Force was intended to be a core player in the team's group dynamic — pretty boy powerhouse with a whiff of Namorian monarchic arrogance and a looming threat to the Dark Knight's status as the pack's alpha male.
Unfortunately for Geo-Force, it took more than a stupid costume and sullen sneer to pose a credible rival for Batman. Not much more, mind you, but still more than Geo-Force could muster.
Seriously, between the off-the-rack generic 1980s superhero duds and the hilarious "GF" insignia, the poor sap looked like he should have been a promotional mascot in some kiddie magazine. "Hey, kids! Mail in three UPC symbols to get a free coloring book featuring me, General Foods, fighting the fearsome Hungries!"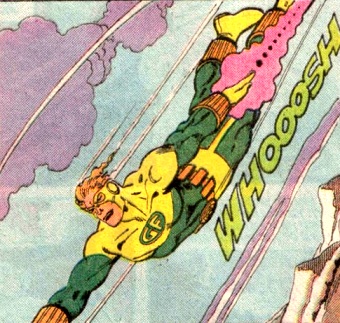 Even though the Outsiders' stars faded pretty fast, their brief glimmer of success has guaranteed a unending cycle of attempts to restore the franchise and its components. If it modestly worked decades ago, the prevailing dubious wisdom dictates, it should work like gangbusters in the present day. Just look at child labor and whale oil lamps!
And so Geo-Force has periodically crawled back into the periphery of the public spotlight, usually in the context of yet another doomed as revival but more infamously as a pathetic plot point in Brad Meltzer's Justice League run.
How pathetic? He tried to kill himself in a Meltzer book and couldn't even pull that off successfully.
Halo may have been astronomically irritating and Looker may have committed unforgivable crimes against fashion, but Geo-Force's utter lack of distinguishing characteristics made him an even worse character than his more egregiously awful teammates were. In the garishly camp realm of superhero comics, making a bad impression is better than making no impression at all…which is why I've assigned this royal refugee from a 2nd edition Champions sourcebook an out-of-way corner in the dusty hall of Nobody's Favorites.