While my extended and sequential exploration of LIFE Magazine's 1950s backcatalog has been an often poignant, ampoule frequently painful exercise in the fool-making powers of hindsight, try it has turned up a wealth of little-known popcultural gems.
Some of the most interesting finds have been comics related, search with original work by some of the all time greats popping up in both advertisements and featured articles.
Al Capp, whose L'il Abner had bloomed into (and since utterly faded as) an oft-referenced pop culture touchstone was the subject of multiple pieces and even a cover story, but the bulk of his cartooning presence in LIFE's pages took the form of commissioned ads where the residents of Dogpatch sung Cream of Wheat's virtues while Fearless Fosdick acted as the square-jawed pitchman for Wildroot Cream-Oil Hair Tonic…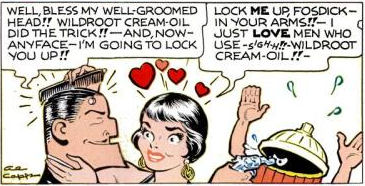 Similarly, Chet Gould put his most famous creation to advertainment work, but I've already covered that disturbing travesty elsewhere.
More interesting are commissioned features pieces.
Bill Mauldin, the cartoonist voice of the weary combat vet, contributed both illustrated prose articles such as "Europe on Less Than $28,411" (8/17/1953), a postwar "Innocents Abroad" about returning to Europe as a civilian tourist…
…as well as illustrative annotations for LIFE's serialized version of General Omar Bradley's war memoirs in early 1951.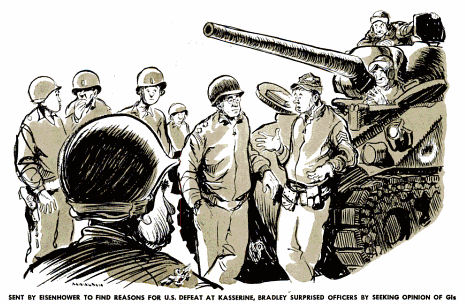 Legendary Pogo creator Walt Kelly also made a number of contributions, including a note-perfect caricature of Boston's notorious Mayor Curley ("A Hurrah for Curley by Curley," 9/10.1956)…
…and his visual impressions of the circus surrounding the Watkins Committee's too little, too late condemnation of Senator Joe McCarthy (9/13/1954).
My favorite of the lot — of which these samples only represent a small fraction of the material I unearthed — was an illustrated feature where Basil Wolverton, the Grandmaster of the Grotesque, served up a "Ghastly Garageful" of automobiles designed to suit Americans' more unfortunate driving habits (4/16/1956)…
The purpose (as much as there has been one) of my delving into the periodical soul of the American Century was to observe events (the Cold War, the Civil Rights Movement, Rock 'n' Roll) unfold in vetted-for-the-average-schmoe real-time. Like so many of my retrological/historical adventures, however, the side trips have produced the bulk of the discovered treasures.