In Victorian times, members of the newly minted bourgeoisie would express their prosperity by decking out their domiciles in the style of a TGI Fridays. Every surface, patch of wall, or cozy corner had to be crammed with a bewildering assortment of knickknacks.
What began as a curated clutter of somewhat valuable objets d'art soon turned into a wider phenomenon, as less fortunate folks sought to emulate the smart set's affectations with mass produced curios aimed at giving an aura of store-bought sophistication on the cheap.
The trend eventually ebbed, as these things tend to do, only to resurface half-a-century later in another era of material prosperity and conspicuous consumption. This also happened to overlap with a bout of market-driven nostalgia which attempted to triangulate itself between Gilded Age opulence, Roaring Twenties hedonism, and frontier period rustic modes. Being a kid in those times meant the homes of every older relative resembled a folksy fusion of Holly Hobby's front room and a burlesque bordello.
And when said relative died or downsized their post-retirement digs, there'd be a mad rush among the younger folks to lay claim on the assortment of "antique" globes or swords or dueling pistols collecting dust in the den. Discovering how flimsy and cheapjack the items were became an important life lesson, how the long coveted stuff of dreams was actually cobbled together from flimsy sheets of tin, particle board and paste. (It was a lesson also learned at home, after some constant yet function-free fixture fell victim to misadventure caused by rough play.)
Despite the dubious provenance of its artifacts, it's an aesthetic I sincerely miss. There's something cozy and comforting about it which is sorely lacking in spaces kissed by "konmari." Combine it with the scent of a stew cooking and the stuffiness of steam radiator heat, and it fills me with a comforting sense of "home" as a home should feel.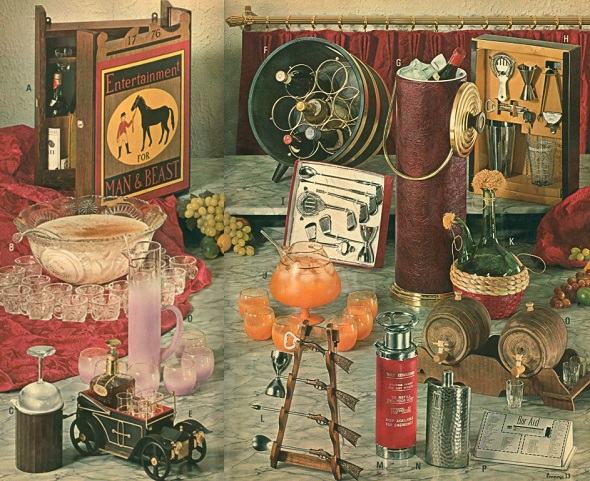 It's something I prefer to evoke with my own mix of family heirlooms and significant curios, however. The pre-fab crap does evoke some bit of nostalgia, but the off-the-rack impersonal aspect of it does little for me. Plus the shoddiness of that shit makes it difficult to score outside of estate sales, where more often that not it will be coated in a grimy layer of dust mixed with tobacco tar.