My love of Josie and the Pussycats dates back to mid-Seventies, when syndicated reruns of the animated power trio triggered early stirrings of Young Andrew's sexuality. My ignorance about the nature of those feelings, combined with prevailing notions among my peers of it being "a girls' show," shamed me into hiding that love through my late teens — by which time I'd figured out why my heart fluttered whenever Melody pounded the skins.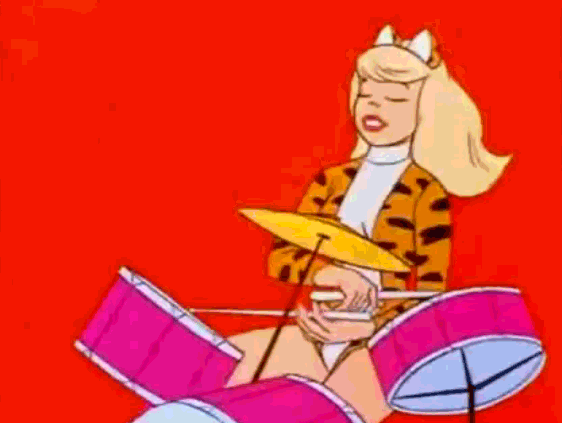 Besides the…um…visual appeal, the show also featured a pretty killer soundtrack of soulful bubblegum pop tunes which would accompany the extended chase sequences leading to each episode's finale. I can't definitively say they — along with the songs in similar Hanna-Barbera "mystery teen" cartoons — were responsible for my enduring love of uptempo Sixties soul and pop jams, but I can't definitively rule the possibility out, either. (The ads for K-Tel oldies collections which ran during the commercial breaks probably bore some responsibility, as well.)
I've been trying to acquire the Pussycats' material on vinyl since the dawn of my record collecting days, but never had much luck finding any within a reasonable price range. The franchise never hit the Archies' level of multimedia success which Hanna-Barbera had been aiming to replicate. What records did get released suffered the heightened level of attrition experienced by any kid-targeted slices of vinyl.
As a result, the band's sole LP can command upwards of $300 in decent condition, while the Rhino Handmade CD collection of Pussycats material underwent 500% markups within hours of release. Both were well beyond what I'd be willing drop even with a pocket full of "fuck you" money.
If I had taken the stick out of my ass and dropped my bias against 7-inch releases sooner, it might not taken thirty years for me to realize there were other avenues to obtain these tracks on vinyl. The condition of the records can still be an issue — with the prices increasing geometrically as one moves up Goldmine's grading tiers — but most of the Pussycats' domestic singles can be obtained in a middling "VG" condition for a little under a tenner and a tolerance for mild surface noise.
Quite a bargain for some solid bubblegum gems, each one jam-packed with re-purposed H-B effects and incidental music, killer harmonies, and hormonal triggers.
Okay, that last one might just be me…but somehow I doubt it.