Although our living room has been reconfigured to accommodate my return to record collecting, space remains a pressing issue. It's why only about a fifth of my older library got incorporated into the present one, and why I've turned to compilations and 7-inch singles for the sake of shelf-maximizing efficiency.
The crunch has driven the "most favored" and/or "essential" ethos behind my purchases of the last couple of years, lest I get buried beneath a flood of impulse purchase bargains. There are LPs bought only a few months back that are on the verge of getting de-listed from the collection and crated in favor of 45s featuring the money tracks.
There are three questions I ask myself before committing to a new acquisition:
1. Do I and/or Maura love listening to it?
2. Does it carry some personal or contextual significance?
3. Will it get played at least three or four times a year?
If it doesn't meet two out of the three criteria, it gets passed over…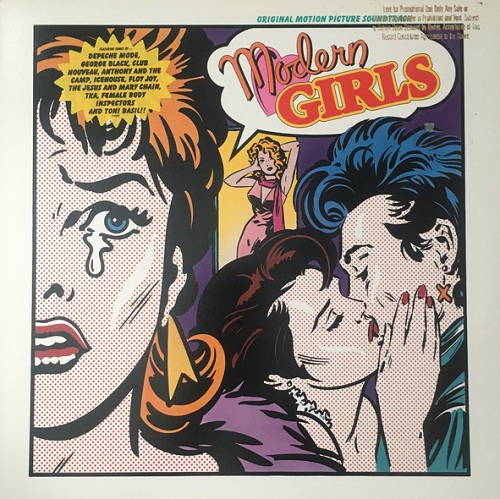 …unless it happens to be the soundtrack from the 1986 film Modern Girls.
I wrote a little about the film back in AT's early days, and how its rom-com club scene antics felt like an early Eighties pitch that didn't get shot until the very different back half of the decade.
It's not a great film by any stretch, though it does feature Daphne Zuniga and Virginia Madsen dolled up in ludicrously stunning High Eighties fashions and the Robert Margouleff Remix of Depeche Mode's "But Not Tonight" as its end credit music. (The original music video for the track used clips from the film.)
That and The Jesus and Mary Chain's "Some Candy Talking" were reason enough to buy a copy of the otherwise so-so soundtrack album. My disappointment was less about the MOR club pop jams it included, than about the more interesting songs from the movie which didn't make the cut — the Belle Stars' rendition of "Iko Iko" (two years before Rain Man) and "Something Inside Me Has Died" by LA deathrock legends Kommunity FK.
The motivations behind the song selections were certain more mercenary than artistic, a promotional sampler to boost the profile of certain promising (by the labels' standards) acts over a niche scene darling or an 1982 a-side from a soon-to-be-defunct new wave ensemble. That was the governing principle for licensed soundtrack releases, and why so many of them ended up in department store cut-out bins.
I knew this going in, and could've picked up the DM and JAMC material — minus the Floy Joy and Female Body Inspectors — elsewhere. Yey I opted for the full soundtrack LP, knowing that my turntable's needle wouldn't touch 80% of it. I can not envision any scenario where I'll think "hey, I really feel like listening to the Modern Girls soundtrack."
I purchased because it was dead cheap and such a perfect artifact of its era. And because I have a certain affection for that spawned it, thanks to a long stretch of the mid-Aughts where it was in constant rotation on lower-tier cable movie channels. If I can't spare a couple of millimeters of shelf space for the mediocre soundtrack of a muddled 1986 movie that gives me weird junior high flashbacks even though I didn't know it even existed until my late twenties, then why am I even bothering with this hobby?