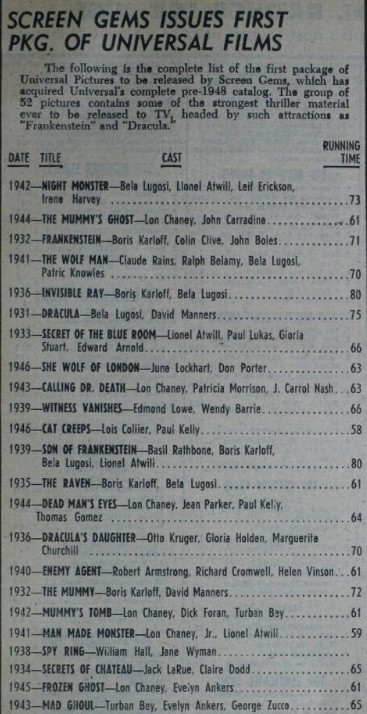 The above excerpt from the August 19, 1957 issue of Billboard covers what was probably the single most important trigger for the "monstermania" of the late Fifties and early Sixties.
Running cinematic releases over the airwaves was a contentious subject during the early years of television. Movie studios, already feeling squeezed on multiple fronts, were reluctant to provide content for what was seen as an upstart rival medium. The movies that did manage to filter down to the small screen were forgettable drek, barely adequate to hold down the opening half of a third-run matinee.
This situation began its slow turnaround in the mid-Fifties when Screen Gems, Columbia Pictures TV production wing (with a name re-purposed from its old animation arm), started syndicating the studio's film library — including Three Stooges shorts — to TV stations.
Shortly afterward, Columbia gained the rights to distribute Universal's pre-1948 film library, including its deep bench of thrillers. Bundled under the "Shock Theater" header, it was farmed out to local markets and presented by a variety of home-grown hosts working their own variants of the spookshow angle.
All the iconic players of the Golden Age of cinematic monster were liberated from the revival theater circuit and beamed out to a new generation of impressionable minds. It's no co-incidence that Famous Monsters of Filmland hit the newsstands the following year. And although Hammer's Curse of Frankenstein dropped a few months before Shock Theater was launched, the studio's stateside fortunes got a symbiotic updraft from the revived interest in the classic gallery of celluloid ghouls.
It's a perfect example of pop culture as the confluence of art, commerce, and appetite. In other words, right up my alley (with the added bonus of source material I genuinely dig).
Recommended listening: