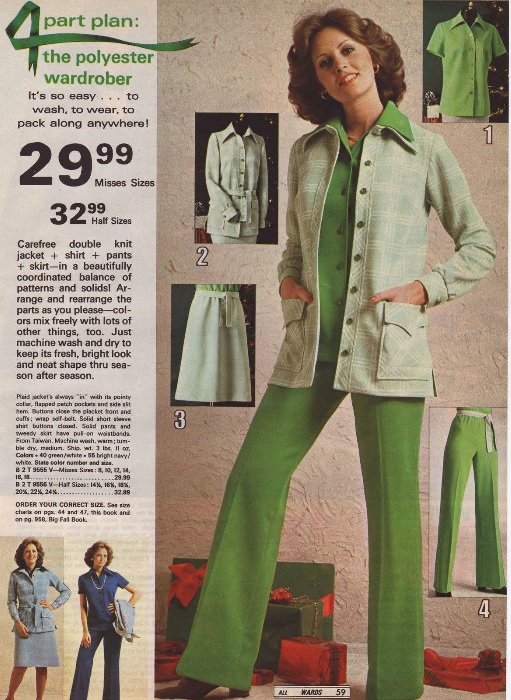 NEWLY DECLASSIFIED FROM THE SECRET VPL DATABASE:
THE POLYESTER FOUR PART PLAN OF 1975:
1. Trap the smell of sweat, body odor, and other environmental scents in the fabric to an eye-watering degree.
2. Cause your clothes dryer to burst into flames.
3. Realize how awful you actually look.
4. Donate the stuff to a thrift store where it will remain unsold until the mid-Nineties.
The late Sixties get flagged as an era of upheaval, but the Seventies are when society truly lost its mind. Faith in traditional institutions waned and previously marginalized groups began to assert their selfhood in force. These were grand developments to be sure, but ones that led to fumbling attempts at soul-searching and self-actualization on a massive scale. The consumer capitalist combines tacked into this wind and used it to fan the flames into truly bizarre intensities.
All teleological bets were off. The Devil became a celebrity, competing for face time with Bigfoot, the Bermuda Triangle, and ancient astronauts. One's future, as written in the stars, could be had by popping a few coins in a vending machine.
It was an era where boundaries of time itself broke — prairie chic and Roaring Twenties decadence and Space Age minimalism and Sock Hop slickness coexisting and intertwining in the space of a single suburban ranch home. If there were contradictions, they went ignored among the synthesized rustic and wood-grained solid state detritus that rushed to occupy the post-consensus, post-Aquarian vacuum.
If the material culture of the Seventies seems ludicrous, it's because that garish absurdity suited the times. The decade was the cultural equivalent to the genetic radiation which occurs in the aftermath of a cataclysmic extinction event. With the status quo upended, a staggering variety of organisms rise up to populate the post-collapse biome. Many of these strange beasts lack the viability to go the long-term distance, but thrive within their transitory niche ecologies. What lasts, lasts. What doesn't, finds its way into the fossil record to baffle future generations.