JCI's series of (ugh) "Baby Boomer Classics" compilations picked up where K-Tel left off when it came to shaping Young Andrew's musical tastes. They were an attempt to cash in on the Reagan Era outbreak of Boomer nostalgia while elevating the quality bar for midlist collections. (All original master recordings! Chrome cassettes!) Each installment was titled using a [descriptor] plus [decade] formula and wrapped up in some very mid-Eighties trade dress.
The collections were a staple of department store sell-through bins during my junior high days, which put them within easy reach of my cash-strapped mitts. The brand consistency appealed to the part of me who obsessively memorized passages from the Official Handbook of the Marvel Universe, while the musical content drew in the part who'd turned his back on contemporary pop music.
That latter process had started when I caught The Blues Brothers on cable during the summer of 1985, but it was cemented when my search for the non-soundtrack songs from the film led me to Soul Sixties by way of Sam & Dave's "Hold On, I'm Comin'." From there I jumped to the sublime instrumental jams and lower-tier wannabe Beach Boys wannabes of Surfin' Sixties followed by followed the psych-tinged guitar freakouts of Electric Sixties and More Electric Sixties.
They weren't perfect recreations of their moments and scenes — thanks to time constraints and licensing issues — but they were affordable stepping stones that also made for solid soundtracks to accompany my adolescent aimlessness.
I bought them on cassette back in the day, but it occured to me during the middle of my K-Tel comp buying spree that vinyl versions must have been released. A quick check of the usual places revealed that was indeed the case, and used copies were fairly inexpensive, to boot. Great music, a strong (twice removed) nostalgia buzz, and a low asking price — that's the shit impulse purchases are made of.
After picking up the holy quartet, I started sniffing around for other installments I'd passed over or missed during my teenage years. Rockin' Fifties and Sock Hoppin' Fifties were easy buys because of Maura's and my shared love of old school rock 'n' roll. I bought the blandly titled Dance Sixties because it was a Stax-heavy companion piece to Soul Sixties. The eBay seller bundled it with a copy of British Sixties, which wasn't anything I was actively looking for but the pair was cheaper than the Dance Sixties LP alone.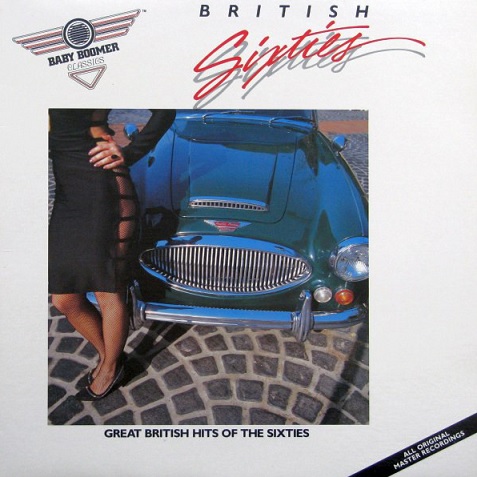 As the title suggests, British Sixties is a collection of tunes from "British Invasion" artists. It's not something that can be compressed into twelve tracks, and the folks at JCI didn't put much effort into trying to do so. The three big standard-bearers of the scene are understandably absent (though Marianne Faithful's rendition of "As Days Go By" offers a second-hand Stones fix and a cluster of mellow Merseyside acts sub for the early phase Fab Four).
There are no Honeycombs, no Searchers, no Cilla/Pet/Lulu/Dusty-school pop tones, no Animals. Manfred Mann ("Do Wah Diddy Diddy"), the Hollies ("Look Through Any Window"), and the Kinks ("You Really Got Me") do make an appearance though, alongside the Small Faces ("Itchycoo Park") and Them ("Here Comes The Night"). Donovan's "Catch The Wind" is also featured, which is a song I truly love but feels like a tangential fellow traveller in context of the other material.
As a snapshot of the British Invasion, the compilation is at best and uneven and incomplete effort. As an ass-backwards vinyl form of mixtape, however, it's one of the most listenable collections in my archives. The individual tracks are strong enough and flow so seamlessly that it's a joy to play. It's the record I throw on when I can't decide what to throw on, and perfectly suited for the post-commute comedown period when mutually agreeable music is a must.