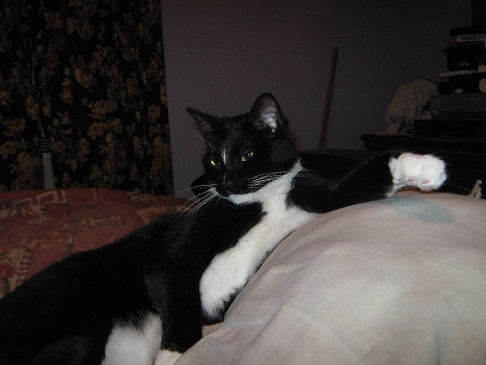 In April 2016, Maura and I gathered the quartet of feral feline siblings who'd taken up residence in our garage and brought them to the vet's office to be spayed. The two short-haired sisters — a tuxedo cat dubbed Nubby and a gray tabby named Little Baby Setz — turned out to be extremely pregnant, so we took them in so they could have their litters in less austere surroundings.
Nubby was the first to give birth. It happened in the middle of the night when I was asleep, and Maura informed be of it when I got up the next day. I asked her what the kittens looked like. She responded that one was a tuxedo just like its mom.
Her description wasn't entirely accurate. The kitten was a tux, but in place of the white-tipped tail that inspired Nubby's name, it had a diamond-shaped patch of white fur between its eyes.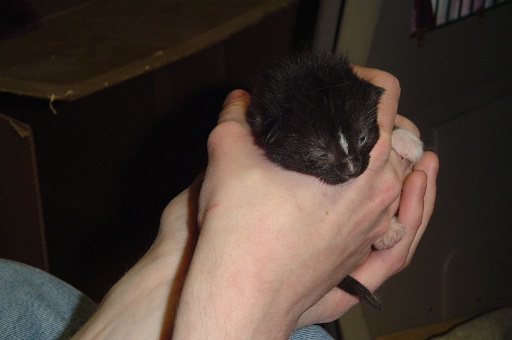 We had no intention of keeping any of the kittens, just the two "Auntie Moms." We agreed not to name them or take any other actions that would result in getting too attached to them. The first part fell by the wayside when the combined broods developed eye infections which required a visit to the vet's office and some form of designation on their medical records.
To be honest, I'd already started calling the tux kitten "Gem" — after the marking on his face — by that point. Maura, being the daughter of Irish immigrants, assumed I meant "Jem" (as in Country Jem Finer of The Pogues) and that's what ended up being put down in the official ledger.
Even when we resigned ourselves that at least some of the kittens would be taking up permanent residence with us, Jem was originally one of the "unchosen ones." He was supposed to go one of my old man's work buddies, but the logistics got fouled up and drawn out to where we just said "fuck it, what's one more cat at this point?" It helped that Jem was one of the only kittens the extremely unsentimental Nubs seemed to like (though it didn't last) and the little guy had such a unique personality even from an early age.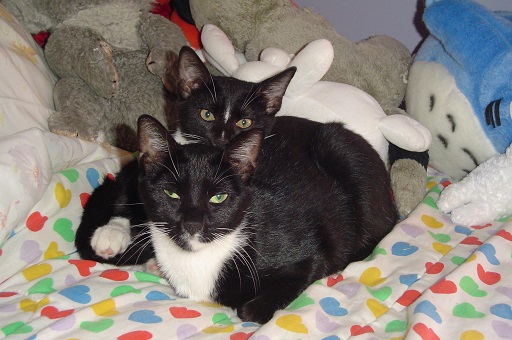 Jem was extremely vocal and outgoing, more interested in his people than the other cats. Whatever we were doing, he had to part of it. It could be annoying, but from that annoyance sprang the deep bond we came to have. I was cleaning the floor one afternoon and he kept throwing himself at the rag in my hand. I picked up a twist tie on the floor, said "here, go play with this, you little bastard" and tossed it across the room. Jem did a backward flip in the air, caught it, then brought it back and dropped it next to me for another go-round.
That was our game for years, which fortunately happened to coincide with my interest in GI Joe and Transformers reissues that were heavily secured with Jem's new favorite playthings. It got so he knew to hop up beside me whenever I unboxed a new acquisition. This was serious business for him, and during those times when I was too busy or distracted to play the fetch game, he'd hop up on the endtable and drop the tie into my glass of ice tea.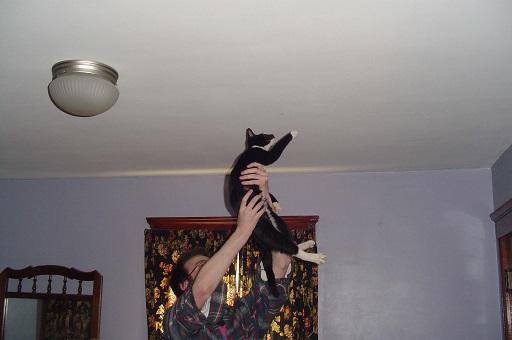 We became inseparable. When he took up residence in a desktop PC box I left in the living room, Maura scrawled "Club Jem and Boy" on the side of it. He, along with his auntie-mom Setz, was a founding member of "Boy's Fanclub," the grouping of cats that gravitated to me as opposed to Maura (who had her own set of feline followers).
Jem wasn't just friendly, he was genuinely and effusively so. "Hey, Jem Cat, what's happening?" would be greeted with a "mrow-rawr" and even looking in his direction would elicit loud purring from him. When I went out in the yard during the warmer months, Jem would stake out a place in the kitchen window and call to me — especially if I happened to walk past the planters where Maura cultivated catnip.
Jem's high-energy, low-drama friendliness earned him the household title of "King of Cats." He was such a model feline that when two other problem child tux cats with similar markings needed homes, we squelched our reluctance in favor of adding some new recruits to the "Jem Army" (not to be confused with "Tuxedo Junction," which included the aloof Miss Nubby as a member).
As the years went by, Jem got a bit portly. He indulged less in aerial acrobatics and more in general cuddlecat antics. He was the mellow statesman of the house, oblivious about the etiquette involved in gingerly dipping his white mitt into my bowl of ice cream or Maura's plate of chow mein for a taste. It was a bit forward of him, but it was hard to stay mad at ol' "Jemmie Fingers."
A while back, we began noticing some troubling changes in Jem's demeanor and body weight. He still stuffed his face as usual, but would suffer from painful cramps and skittery shits afterwards. His weight dropped from a plump fifteen pounds to less than five over the course of three years. He remained charming and friendly, but grew increasingly lethargic. We tried to combat it with various types of medications and changes of diet. The results were always the same — a brief uptick followed by another period of decline. By the start of the new year, we knew it was only a matter of time.
On Saturday afternoon, I spotted Jem in one of the cat condos while I was cleaning the litterboxes in our basement. I called out "what's up, my poor skinny man?" and he responded with a weak "rur-rowww." When he didn't show up for feeding time an hour later, I went down to check on him and found him immobile on the cellar floor.
I thought he was dead at first, but Maura noticed he was still breathing. We swaddled him in a blanket and cat bed, and brought him upstairs to hold vigil over him. During his final hours, he went through fits of yowling, growling, and limp-limbed attempts at outrunning the reaper. He passed away around midnight Sunday.
During his few lucid moments, Maura and I heard a strange sound that we first mistook for a death rattle. It turned out to be a ragged attempt at purring. I know that sometimes cats purr during moments of extreme pain or stress, but these sounds were in direct response to the old phrases we recited as we stroked his fur and tried to comfort him.
"The King of Cats." "Best friend Jem." "Club Jem and Boy." "You're the best, Jemma, the best."
He truly was. I was blessed to have such a creature in my life and gutted by the realization that he's gone.