Our weekday evening routine tends to be fairly consistent.
We get home around seven, scoop any mail or packages from the front porch, flip some lights on, and make sure the animals haven't caused any mischief. Maura sets about prepping the critters' food (I do the morning shift) and I grab a cold tonic from the fridge and scan the internet for any recent developments before we figure out what we humans are going to have for dinner.
This is also where I throw on a record to aid in the post-workday decompression process. Because Maura is in earshot and has her own strong opinions about music, the album I select has to be one that's compatible with our differing tastes. Over the past year, I've built up a short stack of acceptable choices — mostly new wave or oldies compilations and a smattering of selections by mutually agreeable artists. At the top of the latter category is an import release picked up in the wake of the 2016 holiday season.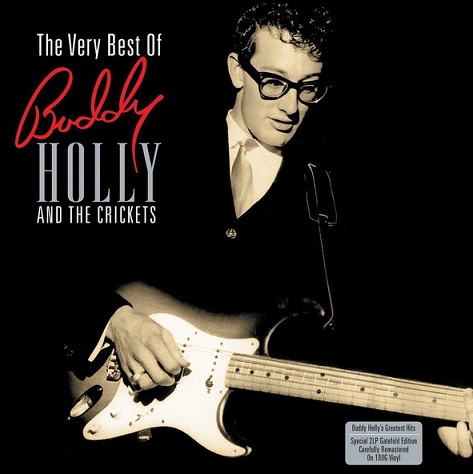 The Very Best of Buddy Holly and the Crickets is a double album retrospective of the man — and band — that pioneered the classic rock combo. It covers the entire spectrum of his too-short career from rockabilly rave-ups to dreamier slow jams, which is why I chose it over the budget collections I'd originally planned on settling for.
I've been a Buddy Holly fan since middle school, where his "geeky Elvis" style carried almost as much weight as his transcendent tunes. He wasn't a pin-up poster child or a sneering firebreather, but a dorky looking dude with an idiosyncratic (and thus instantly recognizable) voice and jangly guitar riffs. Maura is an even bigger fan of Holly's, and her appreciation has been further deepened by the close relationship she has with a developmentally delayed nephew who also loves his music.
And that's pretty much it — a legendary artist, two LP's worth of amazing songs, and a strong personal connection to the material by both parties involved. Consensus listening doesn't get much better than that.