Fun Fact: Up until the end of 2016, I never owned London Calling on vinyl.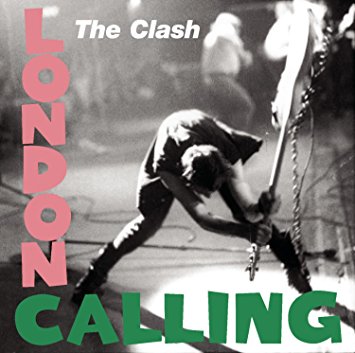 My original copy was the cassette released, purchased in the summer of 1989 on the advice of a ex-punk prep cook at the hospital where I worked. He was the person who re-introduced my to The Clash, perhaps as a way of redirecting my adolescent anger into more productive channels. After starting me off with the US version of the band's debut album — which was everything I'd been looking for in a punk record — he guided me up through the rest of The Clash's discography. Though he counseled me to approach the various follow-up efforts with patience and an open mind, none of the albums stuck the way the original had.
I still have clear memories of listening to London Calling on a shitty knock-off Walkman while biking to school and walking out to the island on Horn Pond (pronounced "Hahn Pahnd") during a hard freeze, but its broad-spectrum pop slant couldn't gain traction in a mindscape furrowed by "White Riot" and "Hate and War." The album soon drifted out of rotation, replaced by UK82 and Oi acts which regurgitated the essence of the first Clash LP with dodgier politics and production values.
I gave it another go — via bargain bin compact disc — in the mid-Nineties, after I'd drifted far enough away from my punk days to be able to re-engage with a less strident perspective. While my love of the Clash's debut album (US and UK versions) was reaffirmed and I developed a deeper appreciation of Give 'Em Enough Rope, London Calling still didn't do anything for me apart from a couple of standout tracks.
It wasn't until the turn of the millennium, when I was looking for long-playing distractions to help me get through a repetitive office job, that the deal was finally sealed. I can't tell you what exactly brought me around on London Calling. For some inexplicable reason, it just clicked into place and became a weekly — and for some stretches daily — listen.
Because of that consistently heavy rotation over the course of fifteen-plus years, it didn't occur me to add London Calling to the list of "essential LPs" to seek out once I bought a new turntable. "The fish doesn't notice the water it swims through" and all that jazz. Its ubiquitous presence in my daily routine didn't lend any sense of urgency, especially considering the asking prices for both the original and reissue were well inside the realm of the absurd.
London Calling was firmly in the "eventually, maybe" category up until the moment Maura forwarded me an email notification that the reissue version was on sale at some online retailer. The price drop was enough to push me off the fence and spring for a vinyl copy after some twenty-seven years.
It's a lovely set that does due justice to a legendary album. I've listened to it maybe two or three times since it arrived.
Decades of listening to London Calling on CD and through a digital rip have conditioned me to think of listening to it as a seamless and continuous experience. Even though flipping sides and switching records is hardly a herculean task, they're still enough to muck up the magic.
I admit it doesn't make much sense, but it is what it is. It also doesn't help that my low-end turntable can be problematic when it comes to playing the 180 gram jobbers that have become standard for contemporary vinyl releases. I know the answer is "upgrade your hardware, Andrew," but it still irks me that a budget pressing of a K-Tel comp that has been sitting in a damp basement since 1975 will spin with nary a skip while a "prestige reissue" pulled straight from the shrinkwrap acts fussy as fuck.