Part of the adoption process in the Commonwealth of Massachusetts involves filling out a lengthy questionnaire covering the applicant's history and personal life in minute detail. It might sound a bit intrusive, but it's nothing I haven't already tackled on multiple occasions and from multiple angles over Armagideon Time's eleven year lifespan. The only real problem I've had with filling it out has been remembering to tone down my habitually salty language and avoid making too many references to All-Star Squadron #35.
Maura has also had to complete her own questionnaire, which has led to a number of recent discussions about various facets of our very different childhoods. The subject of my pre-punk "soul boy" days came up during one of these, and got me thinking about that odd half decade interregnum between two poles of heavy metal fandom.
It started with the Blues Brothers, watched as a network-edited Sunday Night Movie during the summer of 1985. It was the capstone of a perfect day in the middle on one of my family's brief periods of stability. My parents took my brother and I on a drive out to the Berkshires, we had dinner at Thackeray's Table and Tap in the Woburn Mall, then we went home and watched the movie together. There were no fights or yelling or drunken rampages — just my nuclear family in a rare state of equilibrium.
I loved The Blues Brothers. I loved it because the Elwood variant of Dan Ackroyd's stock persona so effectively sold the same traits — gawkiness, shyness, a tendency to go on about stupid crap — I'd seen as liabilities in myself.
I loved the sense of sibling solidarity.
And I loved that sweet soul music — at first because it reminded me of the movie, but then on its own merits.
My aunt dubbed me a tape of her copy of Briefcase Full of Blues LP. Soon afterward, I managed to locate cassettes of both the movie's soundtrack album and the Made in America LP. I listened to all three incessantly on the factory discard stereo I forwent a month's worth of allowance to buy from the Emerson subsidiary where my mom worked at the time.
They left me hungry for more music in the same vein, but mid-Eighties Woburn wasn't exactly a hotbed of 1960s Stax/Volt soul fandom. My parents didn't listen to the stuff. There was no internet to scour for leads and streaming audio of associated acts. The only lead I had to go on was the Best of Sam & Dave 8-track which spooled a couple of tracks before the Bluesmobile smashed its way through a suburban Chicago shopping mall.
I searched high and low for a copy of the album — or anything Sam & Dave related — for weeks, to no avail. Finally, while flipping through the discount bins at the local Lechmere, I came across a cassette copy of this…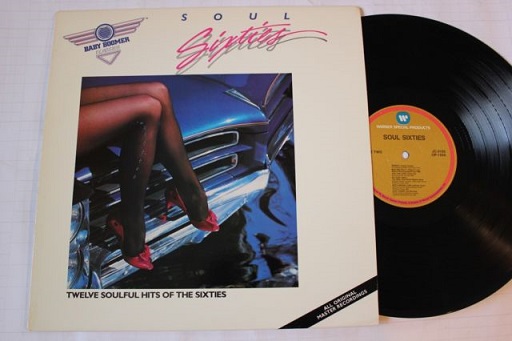 ….the Soul Sixties volume of the freshly launched (and regrettably named) "Baby Boomer Classics" series of midlist compilations.
The imprint was launched by a Warners affiliate to take advantage of the wave of Sixties nostalgia that arose in the wake of The Big Chill. Besides cashing in on the current of narcissistic nostalgia, the line was intended to give an affordably upmarket boost to the disreputable world of budget compilations. No more misleading copy and lossy or chopped edits on bargain grade recording materials — Baby Boomer Classics prided themselves on original masters released on chrome tape and "superior quality" vinyl while keeping to midlist prices. The tracks were proven favorites and the individual volumes were given up-front title branding — genre/vibe plus decade — and trade dress that put a slick Reagan Era spin on the retro theme.
Soul Sixties included "Hold On, I'm Coming" by Sam & Dave, which made it an instant purchase. When I got home and discovered it was indeed one of the tracks used in the Blues Brothers' movie, I was over the fucking moon. It also included essential jams by Otis Redding, Wilson Pickett, and Eddie Floyd (whose "Knock on Wood" is the apex of the classic Stax/Volt sound), providing an excellent roadmap for future exploration.
The combination of quality, focus, and affordability led to further purchases in the series. I was a poor teen with limited spending money. My listening experiences had been dominated by the single-oriented radio and music video formats. Albums tended to be pricier and riskier propositions, and a solid compilation could offer far more bang for the buck as well as a more diverse playlist. If the oldies station played or my parents referenced a particularly intriguing song — like, say The Crazy World of Arthur Brown's "Fire" — it made more sense to seek it out alongside a dozen other promising cuts on "More Electric Sixties" than to seek out a full album.
Plus they looked really impressive when stacked together on the shelf at the foot of my bed.
Surfing Sixties, a mix of killer instrumentals and so-so Beach Boys imitators, became the default soundtrack for the marathon sessions of the Master System port of California Games, where Lil Bro and I would spend hours trying to beat each other's high scores.
Electric Sixties and More Electric Sixties were my preferred listening during my late afternoon bike rides around Horn Pond. The psych-tinged hard rock of Hendrix and Cream amped up my mood, while trippier cuts like The Byrds' "Eight Miles High" put me in a more meditative state. (It was also my first encounter with the Velvets, thanks to the inclusion of "All Tomorrow's Parties.")
Electric Seventies got the most play during my rides to high school and back. To this day, I can't make the trip between Hammond Square and Salem Street without hearing Sabbath's "Paranoid" or Edgar Winter's "Frankenstein" in my head.
They were easily the most played tapes in my collection from the summer of 1985 through the spring of 1989. They offered convenient one stop listening even after I began acquiring the source material.
Then I got into punk rock and (stupidly) decided I was too cool for that shit. All my Baby Boomer Classic tapes were given away, tossed out, or simply fell by the wayside. (It didn't help that the boomer branding offended my Gen X sensibilities even though it was technically the music I grew up, too, thanks to its long tail.)
Up until last week, I hadn't thought about them in almost three decades. Now there are vinyl versions of my favorite ones — unopened in the original shrinkwrap — en route to the House on the Hillside.
Getting old means no longer having to give a fuck about one's punk cred…and thank heavens for that.