Say, kids, what time is it?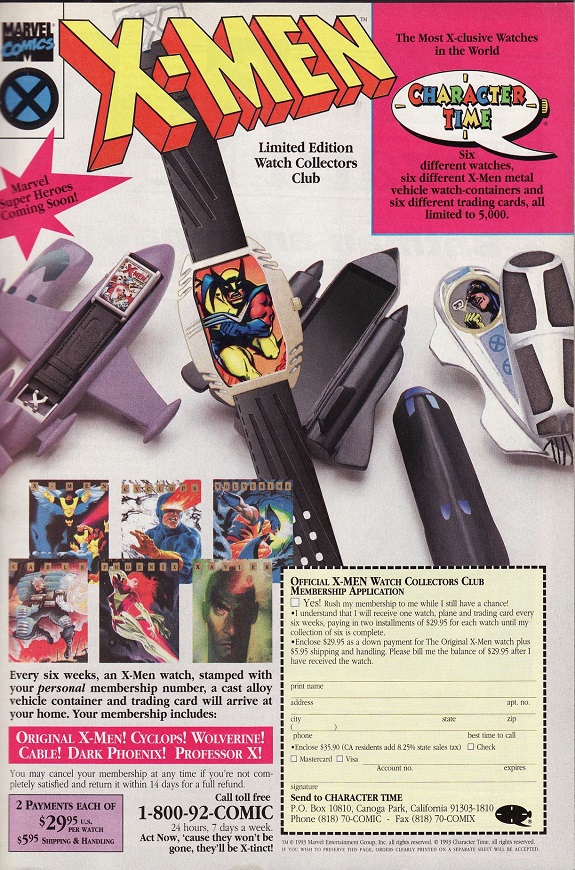 It's crappy merchandising time (which, to be honest, is all the time in the fetid realm of geekdom)!
At first glance, the above ad from a 1993 issue of Wizard appears to be just another pitch for some overpriced licensed garbage. Puzzling, but hardly remarkable for an era where a grown adult would consider a Wolverine wrist watch to be an acceptable way to accessorize.
Upon closer examination, however, it turns out this isn't just a regrettable one-off transaction. It's a long-term commitment spanning a total of six X-brand timepieces and upwards of three-hundred smackaroos. If the watches themselves weren't enticing enough, the totally-not-some-shady-holding-company Character Time was willing to sweeten the pot with super-special, limited edition rectangular hunks of illustrated cardboard. (If you think I'm cracking wise here, you probably weren't around to witness the "non-sports" card speculative mania of the 1990s.)
I normally roll my eyes at the use of "collectable" as marketing buzzword for geek crap, but here it actually makes sense.
The "X-MEN Watch Collector's Club" collects a windfall from dopes with poor sales resistance. The watches themselves will likely collect dust, either unsold in a warehouse or in someone's attic. And if the buyer misunderstands their ability to pay for the products and the club's contractual obligation clauses, a collections agent will likely make an appearance.
Welcome to the X-MEN Watch Collector's Club, fanboy! I hope your credit rating survives the experience!