Hey, everybody, it's Billboard's No. 1 Soundtrack Hits of the '80s list!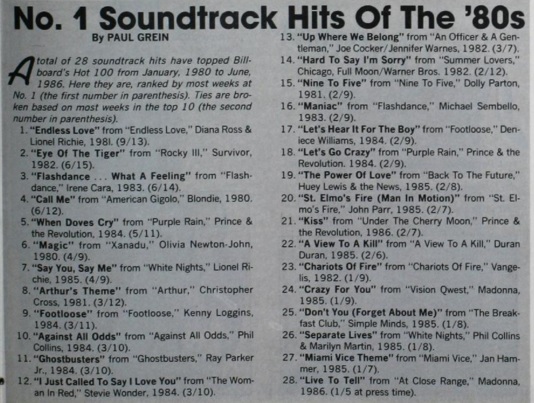 (It came from a special soundtrack-centric insert in the trade publication's June 12, 1986 issue, so don't expect to see any "Nothing's Gonna Stop Us Now" or "The Touch" on there.)
The parallel revenue potential for soundtrack releases was demonstrated by the multi-platinum phenomenon of the Saturday Night Fever double LP, yet it didn't become an essential component of multimedia marketing strategy until the mid-1980s. The rise of MTV, vinyl's slow demise, and increasing levels of entertainment industry consolidation all contributed to the licensed compilation boom time and led to multiple situations where song/video combo from a soundtrack could utterly eclipse the film that spawned it.
"I Can Dream About You," "Against All Odds," and "Sweet Freedom" are only a few examples of that odd form of offset losses. On the flip side, a single standout track — combined with familiar cinematic branding — could compel consumers to cough up the price of a full album to obtain the desired track (and, perhaps, get some exposure for the other jobbers on the release in question).
It worked on my younger self, as the bulk of my music collection prior to 1988 consisted of soundtracks or similarly packaged compilations. This held steady right up until the beginning of my punk rock period, where the the first punk album I bought just so happened to be the Repo Man soundtrack.
….and once you get past the usually cited top-tier stuff, there is some pure, mindboggling retro-gold buried there.