My journey through Panorama has reached its abrupt conclusion with the June 1981 issue, but not before TV Guide's doomed-from-the-start bid for an upscale audience served up a chilling glimpse into the World That's Coming…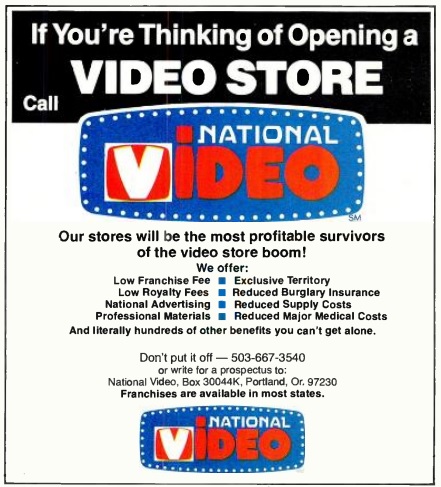 National Video was one of the first major tape rental chains to emerge from the home video gold rush, and the largest until Blockbuster seized the crown in the late 1980s. National was a pioneer and advocate of leasing rental stock from studios instead of purchasing it directly. This was aimed at sidestepping the continuously high overhead where stores would buy fifteen copies of a current high demand title, then have to liquidate fourteen of them when the Next Big Thing rolled around…at a time when new release VHS tapes ran upwards of sixty bucks, unadjusted for subsequent inflation.
It was an innovative strategy, but couldn't compete with Blockbuster's extremely efficient ground game, which focused on economies of scale, aggressive expansion, and ruthless demographic metrics. I miss the days of indie and off-beat rental dives as much as the next misanthropic hipster, but for every customer who shared my tastes there were nine who were never glimpsed past the new releases shelf where the big name shit resided. (The cleanliness and uniformity imposed on Blockbuster franchises made it an even easier sale in Joe and Jane Middle Q. America's eyes as well.)
What really gets me about National's above call to potential franchisees is its tone. Most of these pitches make a point of promising pie in the sky to potential marks, spinning a second mortgage into a guaranteed stream of revenue gold.
"POGS ARE THE HOTTEST THING GOING AMONG THE YOUTH AND SHOW NO SIGNS OF SLOWING DOWN, EVER! FOR THE LOW PRICE OF $100,000, YOU CAN OPEN YOUR OWN POG-HAUS LOCATION AND LIVE ON EASY STREET!"
The prospect of failure is almost never mentioned, except perhaps as the coded, economically Calvinist dodge of "with a little hard work."
As National's aim was to bring indie wildcatters and neophytes under their corporate umbrella, their pitch took a more apocalyptic tone. While they didn't go so far as to use the word "bust," they did — GASP — suggest that the current boom was an ephemeral phenomenon. In the realm of bubble-centric capitalism, that's equivalent to screaming "God is dead" during your niece's first communion ceremony.
The advertised market correction did, of course, arrive…at the tail end of the decade, well after National sold out to West Coast Video.