I will never cease being fascinated by ambitious also-rans of the entertainment world — the forgotten folk convinced of their God-given gifts but forever doomed to be outsiders looking in at those who've Made It Big.
It's always a question of finding the right key at the right moment within eye-or-earshot of the right people, the big break that unleashes a floodgate of fame, fortune, and most importantly self validation. Of course, one can't just sit around and wait for it happen. You have to make it happen, a painful and pitfall-strewn process which sometimes involves taking out a quater-page ad across multiple issues of Billboard in the spring of 1985.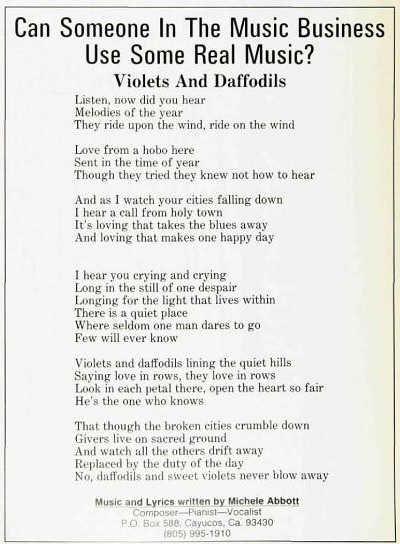 The poignancy here comes not from the quality of the sample material. This is the realm of pop music, where all lyrical sins can be absolved by a decent set of pipes and a few killer hooks. No, the real heartbreaker in the piece is the plaintive plea which leads off the poetic pitch:
"Can someone in the music business use some real music?"
Though the "real" was neither bolded nor italicized, it might as well have been. The author is no mercenary hitmaker, but a authentic artiste. That ought to count for something, yet each new piece of pop pabulum that cracks the Top 40 induces twinges of envious resentment.
"Really, that's what they think 'good' music sounds like?"
In many of these cases, the problem stems from being on the redshifted end of prevailing popcult spectrum. The quality of the goods becomes irrelevant if the market for them no longer exists. (I say this as a man who clings to a dying platform while making references to ephemera unfamiliar to anyone under the age of forty. Also I'm lazy, unmotivated, and have a history of lashing out at the same folks who could've given me a leg up, but still….)
Perhaps Michele's sophomorically saccharine ditties lacked a place in a pop music realm that had moved on to weightier complexities, such as…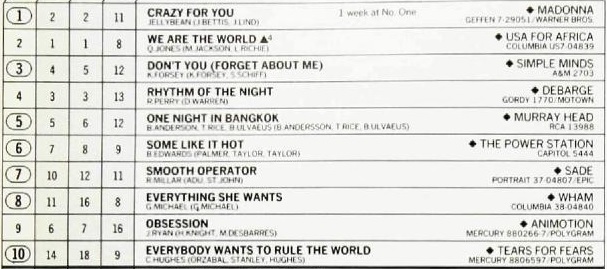 Well, shit. Maybe she just needed better representation.