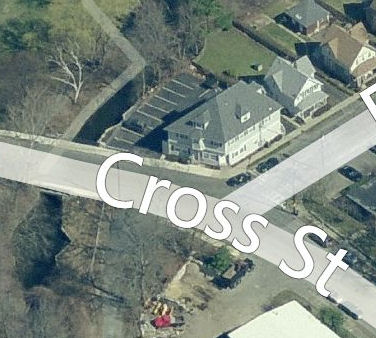 Whenever the spooky season comes around, my thoughts reflexively drift towards the Cross Street culvert in Winchester.
It's not because of some macabre bit or local lore, nor does it stem from the ride down the hill from the Woburn border provides a postcard-perfect view of New England's fall foliage. It's because of Cross Street Video.
It was situated on the ground floor of an apartment building on the east bank of the Aberjona River, right next to a tiny greasy spoon joint that served the surviving remnant of Winchester's industrial district.
The place was a cramped one-man, no-frills affair typical of the era when independent video rental places occupied the same ephemeral economic niche currently filled by vape shops. What made this place different is that my high school buddy Damian had a membership card and its rental prices were a third of what Blockbuster charged.
From a period roughly spanning 1987 through 1991, Cross Street Video was our primary provider for geekboy cinematic trash. Hellraiser, Nightbreed, Die Hard, Predator, Robocop — all experienced without needing to provide proof-of-age and with enough scratch left over to risk food poisoning at the diner next door.
Damian picked nearly all the rental selections, save Bob Balaban's Parents, which only confirmed his arguments about not letting Teen Andrew decide what to watch. It worked out, I suppose, because his fairly limited palate ensured I was familiar with "the essentials" while the lurid boxes of the reels not rented left impressions I'd follow up on a half decade later.
Neither the Cross Street Video nor the diner survived the building's subsequent conversion into condo units during the late 1990s, well before I into moved a neighborhood just off the Woburn end of Cross Street in 2004. Yet every time I pass its former location — which is twice every workday — I experience lucid flashbacks about Robot Jox and greasy French fries and the vicarious transgressive thrills of being a teenage bottomfeeder.
Recommended listening: Ghost Dance – River of No Return (from Gathering Dust, 1988)
[audio:151021gdr.mp3]
Not actually about the mighty Aberjona, though it could apply to the Wedgemere Creek after Woburn opens the Horn Pond dam during a heavy storm, making the posh center of Winchester smell like a busted public toilet.