One of my projects at last year's Heroes Con was getting some favorite comics from my childhood signed by the folks who crafted them. For Roy Thomas, it was All-Star Squadron #35. For Pat Broderick, it was Fury of Firestorm #1. For Bob MacLeod, it was New Mutants Annual #1.
When I found out that José Luis García-López was going to be a guest next week's Boston Comic Con, I figured I'd continue that tradition by getting his autograph on a comic that truly rocked Young Andrew's world.
No, not Atari Force #1, though I did consider it for a moment before deciding that DC Comics Presents #4 was the only logical choice.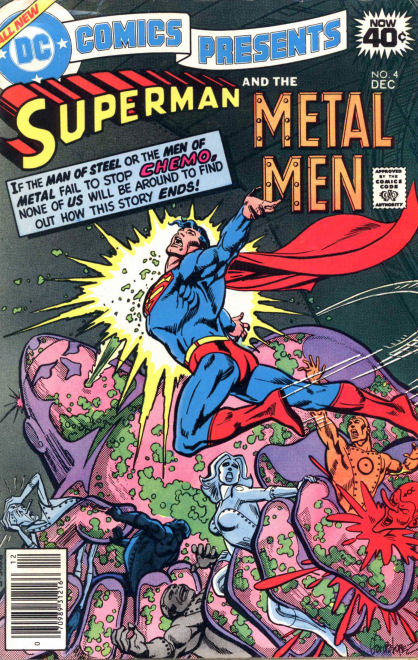 I got the comic in a poly-bagged three-pack back at the beginning of my transition from "kid who read comics" to "kid who was a fan of comics." I still have my wrinkled and semi-tattered original issue in a longbox somewhere, but it was more practical to pick up a duplicate copy which wouldn't disintegrate in transit to the con.
Pal Mike of Sterling Silver Comics was ready to set me up with a replacement (because the man is a stone cold comics retail pro), but I ended up finding an acceptable copy at a collectables shop during a day trip to Hyannis yesterday. (I really am sorry, Mike.)
It had been at least a decade since I last read it, so I decided to revisit it during the long ride back to Woburn. I was worried that it — like so many other objects of youthful affection — might not hold up after three-and-a-half decades of funnybook evolutionary drift, but my fears were unfounded. If anything, the story has improved with age.
So what's the big deal about this comic? For starters, it features García-López at his illustrative best.
His A-game even carried over to the many, many requisite Bronze Age transition panels, making it a consistent visual treat from beginning to end.
Even better, it was done in service to a pretty solid Len Wein script which maintains a high-level of action-packed melodrama even though a number of longish continuity callbacks and heavy duty exposition sequences.
As much as DC — and especially the Superman books — had a semi-deserved rep for being behind curve during the era of Marvel's ascendency, the note-perfect collaboration of creative talents demonstrates that the publisher was still capable of knocking it out of the park without having to swipe from the competition's template.
I'm not going to recap comic's plot in detail, partly because I don't want to spoil it and partly because it's an overused device to pad word counts at the cost of any substantive insights about the work in question. If the excerpts I've posted haven't piqued your curiosity, snarking about the story in mind-numbing detail isn't going to do any good, either.
It's Superman, written and illustrated exceptionally well, teaming up with the Metal Men, also written and illustrated exceptionally well, to take on an apocalyptic threat caused by a z-list supervillain and a barely-controllable chemical kaiju.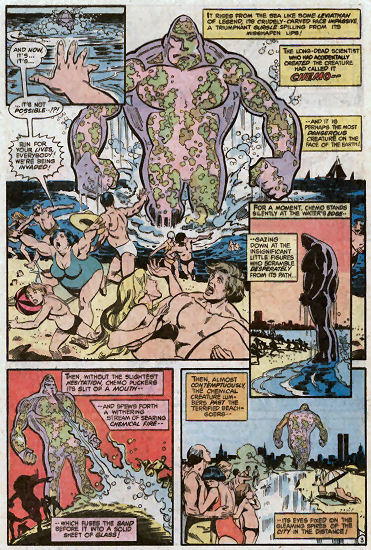 Furthermore, it's a story rife with all the ridiculed Bronze Age narrative tropes — thought bubbles, flashbacks, overwritten caption boxes, fast-and-loose plot logic — yet it managed to turn each of those so-called flaws into strengths.
It has a "chapter" titled "The Man Who Murdered the Sun!"
It is gorgeous to look at and entertaining as hell to read.
It is the comic that defined everything I wanted from a superhero comic to my seven year old self, and set a standard that I still maintain to the present day.
It is, was, and will forever my favorite single issue of a comic ever published.