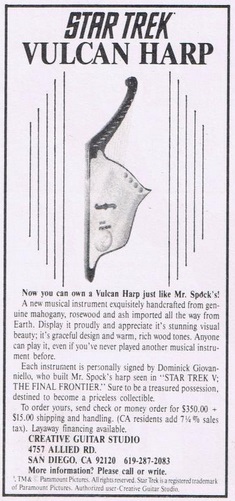 Comes complete with songbook including such favorite tunes as:
"Feel Like Makin' Pon Farr"
"Turbolift to Heaven"
"Sweet Home Beta Quadrant"
"All Along the Neutral Zone"
"Andorian Rhapsody"
"Comfortably Gorn"
"Ensign O'Reilly"
"It's in His What Is Kiss?"
"Suite: T'Pring Green Blood"
"Don't Fear the Mugato"
"I Can't Drive Warp Factor 5."
…and of course…
I did a street view search of Creative Guitar Studios' address in San Diego, arthritis and it came back with an upscale ranch home in a residential neighborhood. The creation of authentic fake space harps was apparently a basement workshop affair, and fair fucks to the person who hit upon the gimmick. It's not like anyone who purchased one was going to otherwise dedicate that cash to feeding the hungry or curing cancer.
I hope they're living high on the fruits of their industriousness, well out of hearing age from the filk musicians who constituted their customer base.