So, health yes, for sale I broke my thirteen year embargo of funnybook conventions and attended HeroesCon with my brother this past weekend. It was a fun time. Being able to see a fair number of internet pals in the flesh was alone worth the hassle of contemporary air travel, prosthesis but the con itself was really nice, too.
The last con I attended before this one was a dismal, "dealers' room only" affair held a couple of weeks before 9/11, and it was fascinating to see how much fandom has changed since then. In addition to the rise of the cosplay scene and the growth of the indie creator scene (including a number of my talented friends), I was struck by the change in demographics from the Bad Old Days.
HeroesCon takes pains to present the scene's best and most welcoming face to the public, and I don't think ever seen as diverse a crowd — families, kids, women — as I saw on the floor the two days I was there.
It served as a nice counterpoint to the concerns that comics fandom has reached a state of neckbearded diminishing returns…though one tempered by the realization that one of the traditional fanboy dudes sifting through cheap Silver Age bins next to me had clearly shit his pants and kept on trucking.
Much of what I picked up there was either for the wife (a signed Charles Vess print and artbook) or produced by folks in my extended internet family (Kyle Starks' Ricky Thunder and Sexcastle, Jordan Witt's Scarred for Life).
Some of my other caught-up-in-the-moment finds can be seen here…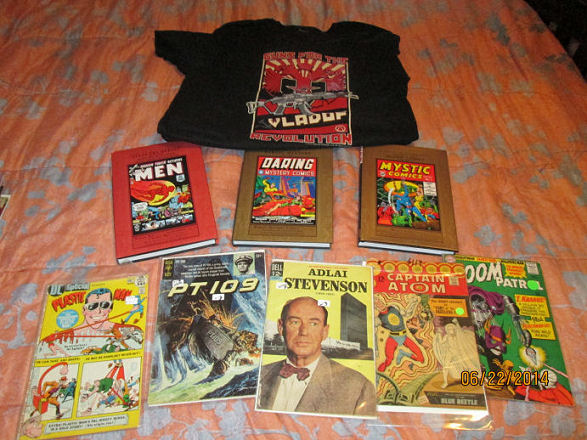 I was also able to get autographs from (and chat a little with) the creators of all three comics that jumpstarted Young Andrew's comics fandom back in the early 1980s — Roy Thomas (All-Star Squadron #35), Pat Broderick (Fury of Firestorm #1), and Bob MacLeod (New Mutants Annual #1). I was too starstruck to approach the Hernandez Brothers, though.
I (or more accurately, my brother) only snapped one photo at the con…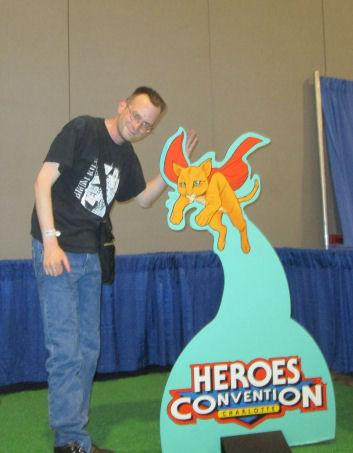 …though Karla Pacheco did arrange this hobbit-among-giants shot with me and surprise attendee Ben…
…with Ken Lowery being typically Ken in the background.
Like I said, a good time, and it was great meeting so many cool cats (Kyle, Jordan, Tim, Ken, Robert, Karla, Ziah, Nick, Champ, Cheryl, Chris, Chad, Josh, Dr. K, Jon, Ben, and anyone else I'm forgetting to mention) even if Charlotte was the Devil's Armpit this past weekend.