When it comes to hobbies which lend themselves to effective supervillainy, plague the art of juggling is right down there next to philately and marigold cultivation. It's not that I'm impugning the quick-thinking and manual dexterity of juggling enthusiasts, it's just that it's difficult to perceive an appropriate aura of menace from something I reflexively associate with that one Montessori school alum in my college Dungeons and Dragons group.
However, this high hurdle for hearty heinousness did stop the late great Mark Gruenwald from gracing the Marvel Universe with an entire team of prop-tossing ne'er-do-wells otherwise known as…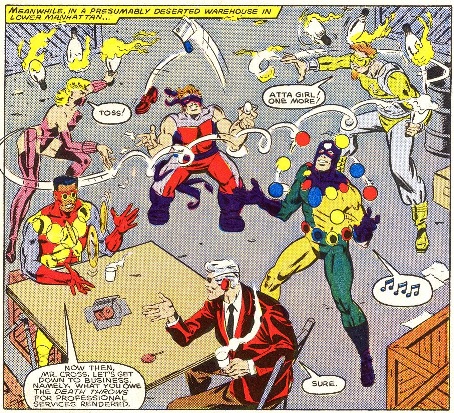 …the diabolical Death-Throws.
The group debuted in Captain America #317 (May 1986), as part of an unasked-for epilogue to Gruenwald's Hawkeye miniseries from a few years prior. Just as Crossfire (the fifth-tier mastermind who served as Clint Barton's nemesis in the earlier tale) was about to stand trial for his misdeeds, his former henchmen Oddball (juggles balls) and Bombshell (juggles bombs) bring in Ringleader (juggles rings), Tenpin (juggles bowling pins), and Knickknack (juggles random crap) to spring their former boss.
Though Gruenwald would later flesh out the backstory of the Death-Throws in excruciatingly convoluted detail, I think he really dropped the ball (HA!) by not using the group's introduction as a springboard for a Blues Brothers-ean "getting the band back together" montage — Oddball and Bombshell showing up in full costume at a ren faire/adult education class/kid's birthday party, guilting their psuedo-contented pals into making the leap into full-time supervillainy. "Are you really happy doing kids parties? You could be tossing bowling pins at Thor!"
(Call me, Marvel. We can make this happen.)
In any case, the Death-Throws' grand plan ran into a snag when Crossfire confessed he'd sunk his entire fortune into a the mind-controlling funeral parlor organ that was the centerpiece of his previous wrecked scheme, and would be unable to cover his liberators' expenses. The Throws expressed their anger at this revelation by subjecting Crossfire to the unparalleled horrors of…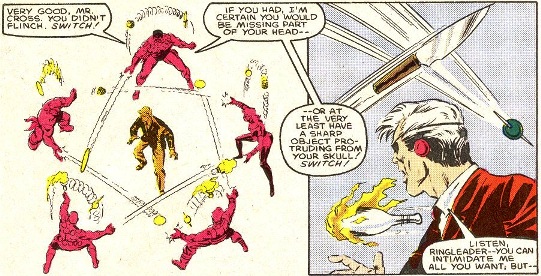 …JUGGLE TORTURE.
The Death-Throws offered to ransom Crossfire to Hawkeye, in hopes a bagging a slightly more profitable hostage. Captain America agreed to Hawkeye's plus-one for the exchange. The two heroes decided to switch weapons before walking into the obvious trap (purportedly for "tactical reasons" but more likely to add a mild element of challenge to the routine z-list villain beatdown to follow).
The Death-Throws went all out, but there was really only so much their limited skillset could accomplish against guys who stomp Absorbing Man and Kang on the reg. Such is the sad truth of juggling — it rarely impresses the spectators as much as it does the practitioners themselves.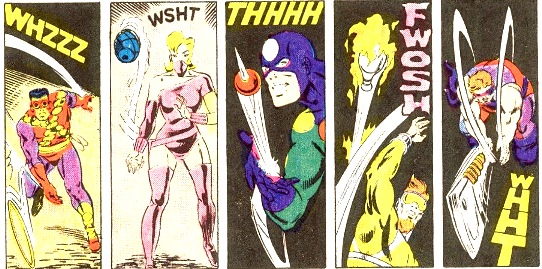 Despite their initial setback, the Death-Throws did go on to pursue a modest career propelled by their creator's love of recursive continuity and subsequent writers' post-ironic affection for high-concept obscurities.
They reside still at the margins of Marvel's shared universe. Should you need a variety of objects thrown for nefarious purposes and Bullseye is too pricey for your discretionary villainy budget, just leave a message at the Chautauqua hall of Nobody's Favorites and the Death-Throws might help you.
Or they'll get defeated by Squirrel Girl inside thirty seconds. You get what you pay for, after all.