Some supervillains are motivated by a burning desire for revenge on those who have wronged them. Others are inspired by unrestrained megalomania or the need to imprint their sociopathic vision upon the canvas of society. Still more operate from a more mercenary agenda, order in which naked avarice frequenly works in tandem with hyper-specific forms of obsessive-compulsive disorder.
And then there are those whose embrace of gaudily costumed evil is rooted in a profound and abiding love of interpretive dance…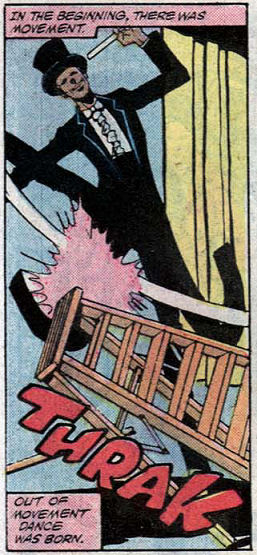 …like Daddy Longlegs, info who made his high-steppin' debut in Spider-Woman #47 (December 1983).
Pint-sized prancer Ramsay Kole wanted nothing more than to trip the light fantastic in front of adoring crowds, but discovered his small stature barred his progress though the upper echelons of the Terpischorean arts. In a fit of desperation, Kole sought out the services of Bill Foster in hopes of scoring a hit of the biochemist's Pym-derived growth formula.
When the former Black Goliath (and future punchline of a greasy Mark Millar gag) rightly rejected Kole's request due to safety concerns, the tiny dancer went full Nijinsky on the scientist's ass…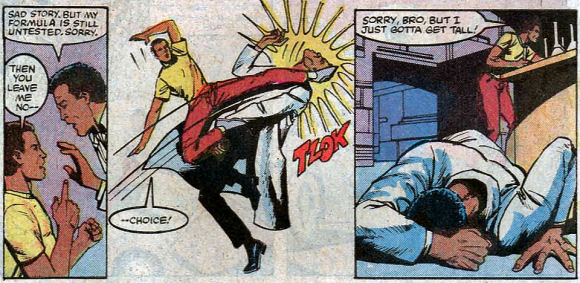 …before quaffing down the contents of every beaker in Foster's lab.
As to be expected in this cases of super-scientific substance abuse, the chemical cocktail wreaked havoc upon Kole physiology, granting him the height he so fervently desired — but at the cost of transforming him into a bandy limbed monstrosity akin to a Jack Davis caricature of Julius Erving.
Driven over the edge by the twisted realization of his dream, Kole opted for the only course of action left open to him within the confines of the superhero genre. Doffing a custom set of formal wear liberated from a "Tall and Grotesquely Taller" menswear store and a weaponized twirling cane, the rubber-limbed rhythm king assumed the villainous nom de plume of "Daddy Longlegs" and set about his unspeakably nefarious plan to…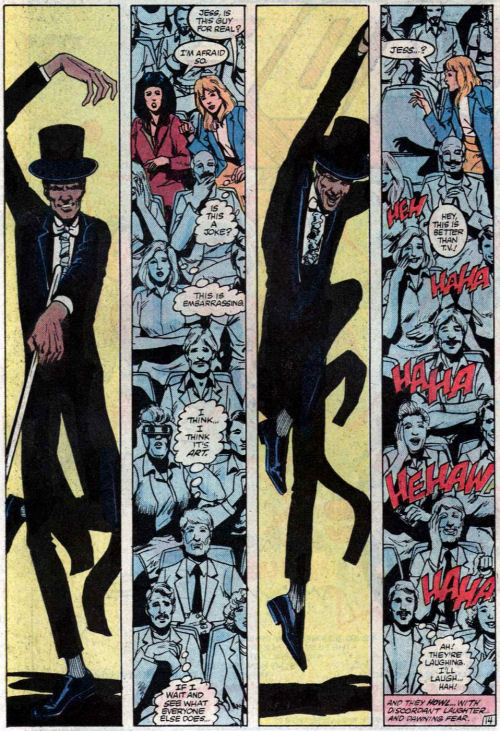 …subject the culturati of Los Angeles to a three hour modern dance recital.
His insidious plans to subject a mildly receptive audience to some superhuman variations of old Bob Fosse routines was thwarted by Spider-Woman, who used a section of chainlink fence to subdue Kole after a strangely eroticized dust-up where the combatants inexplicably "merged minds."
Though Kole managed to escape from improvised captivity in that encounter, he returned in the fiftieth and final issue of Spider-Woman as a prisoner in an unauthorized super-jail where he found ample time to pursue his other creative passion…
…slam poetry.
It takes a rare kind of terrible to qualify as the most laughable member of Spider-Woman's rogues' gallery (see also: Firestorm and Silver Age Ant-Man), but Daddy Longlegs has got both the moves and high-concept-gone-horribly-wrong moxie neccessary to earn his mad prancing self a place in the non-star revue known as Nobody's Favorites.
(Thanks to Zack Smith for reminding me of Daddy Longlegs' tragic existence.)