I suppose it's time to ease back into the habit of regular posting, and what better way to do it than the slow pitch of a belated "what I got for Christmas" piece?
Our holiday season was a good one, right up until Christmas Day when Maura's mother's health took a turn for the worse. Before that, though, there were lights and a tree in the front porch (where the cats couldn't mess with them), hot cocoa and favorite seasonal movies under cozy blankets on the sofa, and multiple spins of the Christmas records I'd added to my library.
Despite (or because) of the grim omens lurking on the periphery, we went a little wild this year with the gifts. Here's my haul from Maura…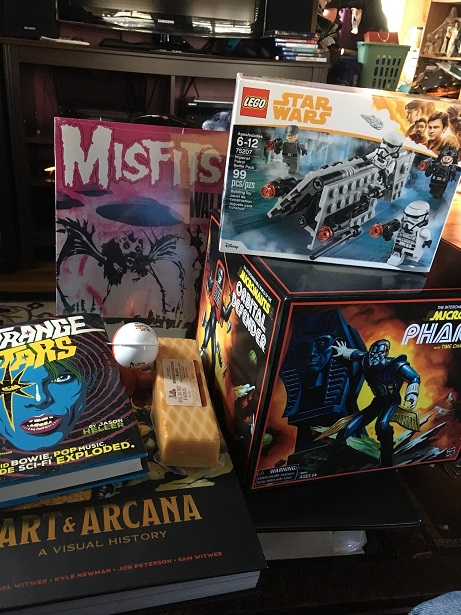 A vinyl copy of The Misfits' Walk Among Us had been on my wantlist since I started buying records again in 2016, but I somehow kept missing the infuriatingly small window between small-run reissues and exorbitant after-market price hikes. This year, my dream of listing to "Hatebreeders" on Christmas morning finally came true.
The boxed Micronauts thing was a SDCC exclusive including mostly accurate remakes of the classic (and extremely breakable) silver-domed figures. Only the sarcophagus rockin' Pharoid has been liberated from the box so far, while I figure out what to do with the rest of the set's elaborate display packaging.
The D&D art book has been getting a lot of buzz, and deservedly so. Working my way through the parts that lined up with my years as an active D&D player was a weird experience — lucid flashbacks to the "Red Box" and "orange spine" days annotated with historical commentary about the system's late Eighties decline. Hell, seeing a period I can still remember clearly treated as ancient history was enough to generate existential dread of the most wistful variety.
Strange Stars was a surprise extra Maura threw in, because she knows me so well. I skimmed through some relevant-to-me chapters and was impressed by what I saw, though I noticed a few glaring blind spots as well. (Blind spots? In music journalism? Hard to believe, I know.) A small Star Wars Lego set has somehow become a yearly tradition, along with the Kinder Egg and some Hickory Farms meat and cheese product.
In return, I gave Maura a Fire tablet (with Alexa shut down immediately after boot-up) after her desktop computer at home unexpectedly shit the bed. I figured it would make a decent substitute until the replacement machine came, except the new PC was delivered a couple of hours after the tablet arrived. She still loved it, as her Kindle was getting up there in years and she has never warmed up to using a laptop. This was rounded out with an import "masterpiece" Mospeada figure of Scott Bernard and his transforming motorbike and a vintage Ginny doll she'd been coveting. I also threw in the follow-up to Viv Albertine's autobiography because she really dug the first installment.
She seemed thrilled with it, so mission accomplished.