Although "hip" pop music was a crucial (MTV-driven) component of the Eighties' "teen movie" craze, it didn't really materialize in soundtrack form until the middle part of the decade. The licensed songs from Fast Times At Ridgemont High managed to score a double LP release in 1982, but the majority of the music came from the likes of Joe Walsh, Jackson Browne, and Stevie Nicks with the Go-Go's and Oingo Boingo thrown in as a token nod to the changing times.
Both Valley Girl (1983) and Sixteen Candles (1984) included fairly deep rosters of interesting "new wave" tracks in the films themselves, which were pared down into disappointing "mini LPs" featuring a disappointing handful of songs. The Times Square (1980) and Repo Man (1984) both got outstanding soundtrack releases, though the films were cult cinema faves only tangentially associated with the teen flick scene.
The genre's potential for cross-promotional merchandising only gained steam after the soundtrack to The Breakfast Club (1985) generated some sales heat, mainly due to Simple Minds "Don't You (Forget About Me)" becoming a relentless overplayed staple of MTV and Top 40 radio. The unexpected success spurred A&M and John Hughes to up their game with the Pretty in Pink (1986) soundtrack, which contained an unprecedented roster of college radio all-stars and memorable material (and a note on the sleeve telling consumers how important the music was to the overall experience of the film).
It was a paradigm shift, but the immediate consequences were limited to a handful of imitators. It wouldn't be until the early Nineties until the strategically sculpted soundtrack would become a cornerstone of the studios' multimedia full court press. (And while the "hipness" of Pretty in Pink's song selections figured into the template, the phenomenon owed just as much — in not more — to the concurrent audio/video synergy of The Big Chill, Platoon, Stand By Me, and so forth.)
Even after soundtracks grew into a requisite part of the teen movie package, most followed The Breakfast Club's model over Pretty in Pink's — a couple potential hits serving as an anchor for a bunch of forgettable jams by session musicians and club circuit strivers. As a nostalgia-damaged Gen X'er, the dearth of consistently decent soundtrack releases is disappointing (especially in cases such as Real Genius where they could've assembled a pretty decent one). As an armchair cultural historian, though, it makes the handful of outliers that much more fascinating to me, and few are as intriguing as the official soundtrack to The Last American Virgin (1982).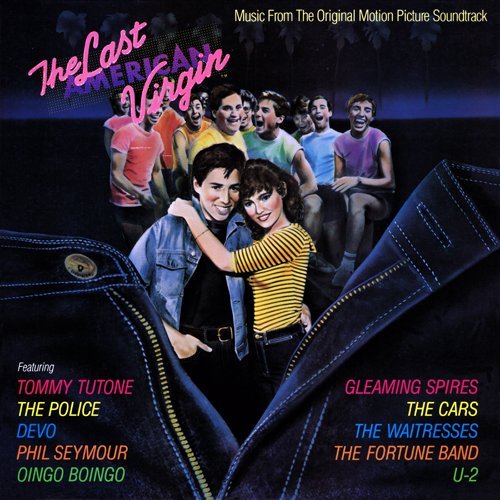 The film was the remake of a 1978 coming of age story set in 1950s Israel, updated and transplanted its writer/director into early 1980s Los Angeles. Like Fast Times At Ridgemont High, it's a transitional artifact of an emerging subgenre that tries to triangulate between sex farce "low comedy" (Animal House/Porky's) and true-to-life adolescent angst (Breaking Away/ABC Afterschool Specials). Unlike Fast Times, it is depressing as hell and indulges in the "nice guys get fucked over" trope which has become a virulent vector for some truly hateful ideologies. Maybe the lesson was supposed to be "you can't make someone love you" and "sometimes you're going to get hurt," but any nuance was lost in the haze melodrama and stilted gender politics of the era, where "DAMN THESE DUPLICITOUS HARPIES" was a lower hanging bunch of sour grapes.
The point is that I had a difficult time watching The Last American Virgin even before painful hindsight soured me on most teen flicks of that era. The soundtrack, however, was exceptional in multiple senses of the word. Where Fast Times leaned heavily on material by SoCal "Cocaine Rock" artists, The Last American Virgin went all in on the "new music" sound that still hadn't gained a firm foothold in American markets. Tommy Tutone and Oingo Boingo both threw in made-for-the-movie compositions that well and truly kick ass (while unfortunately channeling that self-pitying vibe mentioned above), which are accompanied by killer cuts from vanguard waver acts Devo, The Police, and The Cars. The Gleaming Spires and The Waitresses provide a dollop of cutting edge weirdness, with U2's "I Will Follow" serving as a sad reminder of the days when the band were big-haired purveyors of radio-friendly postpunk anthems. (Island must have been trying to make a push on their behalf, because the song also turned up during the final season of WKRP around this time.)
The only iffy cuts on the record are a Phil Seymour AOR effort and The Fortune Band's inelegant stab at new wave arena rock, but they're both listenably mediocre. It's certainly a better killer to filler ratio that one normally finds on most mass market comps.
What makes the album especially interesting is a quick scan of what didn't make it on there. While the music selections in the movie leaned heavily towards new wave sounds (including Blondie, Plimsouls and Human League tracks that were omitted from the LP), there's also a sizable contingent of AOR and contemporary soul jams from the 1981-1982 chart window — REO Speedwagon, Journey, Quincy Jones, The Commodores, and, uh, KC and the Sunshine Band. That's the sort of material one would expect to find on a soundtrack like this, stuff with a proven audience and broader-based appeal. That they didn't is pretty remarkable.
Maybe they assumed potential buyers already owned a copy of K-Tel's Radio Active and wanted to avoid the redundancy. Whatever the reasoning behind it, the The Last American Virgin soundtrack has seem ample play on my stereo these past few months. It's consistent, it's quirky, it hits all the nostalgic sweet spots, and it provides a nice snapshot of a strange and mythic era.