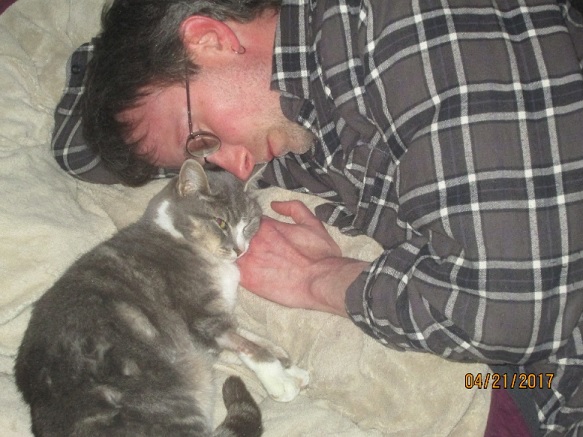 Sometime during the summer of 2005, Maura spotted a tuxedo kitten with a white nub on the tail beating the living shit out of one of our blackberry brambles. We named her Nubby, and set out a dish of whatever cat-acceptable things we had in the fridge.
Nubby must've been satisfied with the ad hoc cuisine, because she returned the next day with two of her siblings — a semi-calico ragdoll we called "Money" and a petite gray tabby with green saucer eyes we dubbed "Miss Kitten." Two other siblings — the mini-Maine Coon Cat "Princess" and the Maltese "Rude Girl" — surfaced in the week that followed.
The entire crew moved into our detached garage and we were able to befriend them to various degrees. While Rudy, Money and Princess still kept some degree of feral independence, Nubby and Miss Kitten had a more affectionate view of humans. I used to cart Nubby around inside my wool overcoat when the cold weather rolled in, and Maura established a close rapport with Miss Kitten.
After watching some of her…umm….interactions with her siblings, we concluded that Miss Kitten might actually be a male cat and changed her name to Little Baby Setzer. (We had the Stray Cats' first album on heavy rotation at the time.)
We found out that this was not the case a few weeks later when we brought the cats in to be spayed/neutered and were informed the Setz was indeed a female and a very pregnant one. We didn't bother changing her name back.
Nubby was also expecting a litter of her own, so we took both moms-to-be in so the could deliver their broods in a safe, warm place. A tech at the vet's office offered to adopt Setz, and we almost took her up on her it. The idea of having a basement full of kittens to find homes for felt a bit overwhelming, and we were looking for any way to make things less stressful. We bundled Setz up in a car carrier and made it a block before Maura began to get weepy.
"Okay, let's keep her."
"But we said we would…"
"Who cares? She's ours now."
Nubs had her litter of four kittens first, followed by Setz's litter of four two days later. (Eleven years ago today, actually.) For Nubs, motherhood was an obligation to be ditched as soon as possible. For Setz, it was a living dream. She became "auntie-mom" to the entire crowd, and was ferociously conscientious about the kits' care and protection. Any perceived threat to her charges — from Addy the Big Red Dog or Maura's mom or whatever — was met with murderous rage.
While Setz had always been "Maura's cat," that dynamic began to shift after she moved in with us. In those days, Maura spent her evenings watching TV alongside our dogs in the living room and I spent them at my computer desk in the upstairs bedroom (working on a new music blog thingee I'd just started name "Armagetting Tom" or something).
Setz wasn't keen about the dogs, so she'd nap on our bed upstairs. As I fiddled around on the computer, I'd reach behind me every so often and give her a skritch or a pat. When I previewed music tracks for posting, I'd sometimes sing along and change the words in Setz's honor. (Her nicknames "Baby Silver Cat" and "Silver Baby" were both inspired by Belly's "Feed the Tree.")
From this, we bonded deeply and Setz became "Boy's Cat." She'd call to me from the window whenever I went outside. She'd chirp and rush over to see me whenever she saw me. She laid next to me on the bed when I was laid up for weeks with a severe bout of the flu.
Setz was never a lap cat, though. She saw our relationship as peer to peer, not person and pet. She had to control any contact, and hated being picked up or anything else that affronted her dignity. When I would give into temptation and hug her, Maura would liberate Setz's squirming body from my grasp and proclaim "She's a woman, can't you understand?" in the style of a classic Hollywood movie matron.
Setz always forgave, though. She was absolutely and utterly devoted towards me, with unwavering faith that I'd never do wrong by her. I had no problems telling the other cats to step off when they begged for an extra round of snacks or a bit of meat from my dinner, but never Setz.
She was the light of my life, my muse, and my guardian angel. She was sweetness and light to Nubby's selfish and moody, and their sibling rivalry for my attention was both endearing and comical. "Nubs would kill for me," I used to joke, "but Setz would die for me."
Lil Baby Setzer passed away last night. It was prolonged, but peaceful. She responded to my voice and my touch with purrs and chirps almost to the very end.
I miss her greatly, but I also consider myself lucky for the time we did have together.