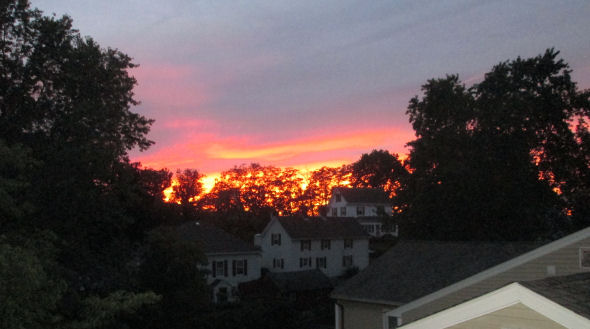 Ever since I was a kid, autumn has been my favorite time of year. Halloween is a huge part of that, but there are other reasons for my love of the season.
Fall is New England's finest moment, those few weeks between the sweltering summers and the brutal winters, when the treeline erupts in a panorama of vibrant tones and the air smells of apples and wood smoke.
Even though it represents the last hurrah before the descending chill, it has always felt like a beginning to me rather that the prelude to the year's ending. My pulse quickens and my spirits lift with the sense that something new is about to unfold.
It's a reaction cultivated by an entire lifetime lived under the timetable of academic calendars — first as a student, and then as a professional working in higher education. My year begins in September, ends in May, and has a surreal interregnum during the summer months.
October is the jewel in autumn's crown, the high water mark of the season. Traditionally, my Octobers have been a month-long festival, culminating in Maura's birthday, our wedding anniversary, and Halloween all with the space a few days. We dig out our favorite spooky playlists, movies, and books spend the month getting into the mood for the big celebration.
It's not that I won't read "Whisperer in the Darkness" or watch An American Werewolf in London or listen to gloomy postpunk at other times of the year, but the Halloween season's atmosphere adds a delicious extra level of enjoyment to the experience. (Some of that can also be tied back to a life lived in Studentville, where nostalgic memories of bumming around the city during the fall months abound.)
Yet, truth be told, I'm just not feeling it this year. Not like I used to, at least.
Maybe it's because I've grown past that sort of thing. Maybe it's because there's a Big Work Deadline on the horizon that has poisoned the well. Maybe it's because the past few Octobers have been times of stress and personal trauma.
I just don't know, but so many of these familiar beloved rituals have felt like going through the motions. The enjoyment is there, but that extra level of thrill is gone.
I'm hoping this will change before the month is over, that the vague sense of dread I'm feeling will recede and be replaced by that old black magic.
Until then, there's nothing to do but keep on keeping on. This house isn't going to haunt itself.
Recommended listening: A Popular History of Signs – October Already (from Comrades, 1984)
[audio:161010phs.mp3]
Revisiting some all too familiar territory, musically and psychically.