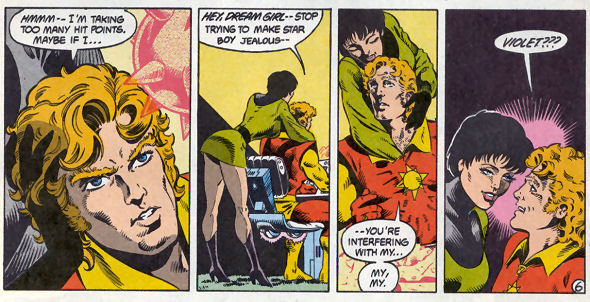 (from "If You Think the Khunds Are Cuddly…" by Paul Levitz, Steve Lightle and Larry Mahlstedt in Legion of Super-Heroes v3 #13, August 1985)
"Thank Valor for reboots."
If you haven't read the issue (or couldn't tell from Sun Boy's talk of "hit points"), the above sequence took place during a game of holographic D&D in the Legion HQ's rec room.
In front of a half dozen witnesses.
When I first read this comic, I was a teenage RPG enthusiast who had experienced many vivid dreams about getting seduced at the gaming table by a sexually aggressive, kinda punky chick…and yet these panels still grossed the ever-living fuck out of me. It was so wrong, a Faustian form of aversion therapy which poisoned the fantasy by pandering to it with the subtlety of a kick to the groin.
My odd pathological hang-ups aside, it was also a pretty stupid and dude-centric approach to take with Violet's post-imprisonment character development. "She's embittered! She's newly empowered! She's more assertive! So let's have her flash her panties and grope Sun Boy's nipples!"