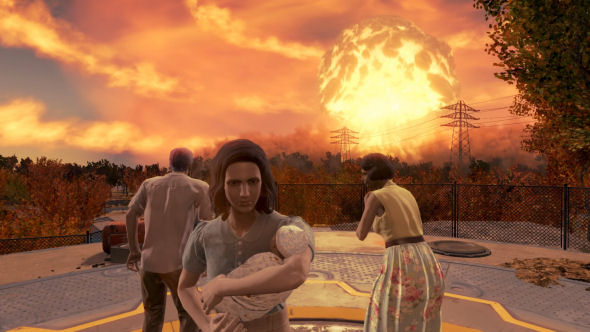 When rumors began circulating that Fallout 4 would be set in the post-nuclear ruins of 23rd Century Greater Boston, I wondered if my hometown of Woburn would be making its AAA videogame debut. When the rumors were confirmed by the developers and more details began to trickle out about some of the in-game locations, it became clear that at least the space occupied by the city would be.
That didn't mean that there would necessarily be a defined "Woburn" location on the map. Past entries in the Fallout series have had to necessarily compress their "real world" geography into something more manageable for the sake of narrative and technical efficiency.
Yet knowing that Woburn was "there" in a sub-nominal sense provided motivation enough see what was there — even if it amounted to a few boulders and denuded trees filling out an empty space between populated zones. Seeking it out would be my first priority when I booted up the game.
I fast-forwarded through the preliminary tutorial, in which I created a character who sported a rough approximation of my features and "Tanner Pride" as a name. ("Tanners" is the name Woburn's high school sports teams go by, associating civic identity with an industry that befouled the city's environment and caused multiple childhood cancer deaths.)
The game starts the player off on the northwestern exurban fringe of Greater Boston, somewhere in the vicinity of Concord, Carlisle, and Acton.
I dated a girl from that area during my senior year of high school. She resembled Lady Miss Kier's deathrocker cousin, and being around her and her equally well heeled friends gave my teen self a crash course in class consciousness.
"Daddy took a hit in the stock market, so we may have to sell one of our vacation homes," they'd say and my mind would boggle at how utterly alien their concerns were to my welfare-assisted ass.
The place should've been nuked back in 1990.
It took a while for me to get my bearings, as Fallout 4's landscape lacks several of the region's significant landmarks. There's no I-93 or I-95, and Route 2 and I-90 have been merged into a single roadway. Locating Woburn was going to be a matter of triangulation between recognizable in-game locations.
I knew I was on the right path when I stumbled across "Bedford Station" — significant because Bedford is two towns over from Woburn.
I continued to push eastward past packs of feral dogs and mutant insects. There were a number of close brushes with death, but eventually made it to Medford Memorial Hospital.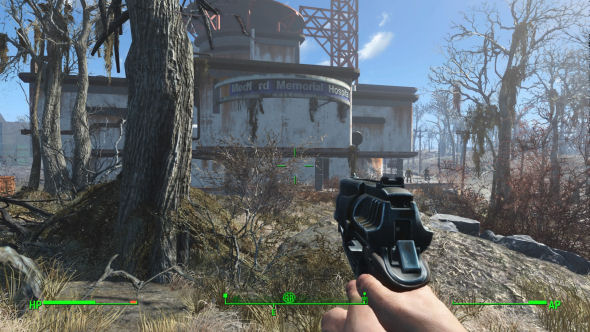 It meant I overshot the mark by a good ways, but Maura was fascinated to see the place of her birth (real name: "Lawrence Memorial Hospital") and her own childhood stomping grounds in a state of apocalyptic ruin.
Turning northward, I came across what I assumed to be the irradiated remnant of Stoneham's Spot Pond before arriving at Lake Quannapowitt.
The latter was looking quite different from the last time I was in Wakefield. Gone were the residential developments surrounding its domesticated shores, replaced by mutant crab monsters that came within a hair's breadth of doing poor Tanner in.
The comic shop I used to visit on Sundays (before it changed owners and lost its focus) is located a block up from the lake, across the street from the where this horrific event took place. The real world has far worse monsters than mutant crabs to contend with.
Another short hike southwestward, and I found what I'd been seeking.
My house.
Obviously, it's not really my actual home rendered into Fallout 4's world, but it has a similar architectural structure and roughly sits on the same location. There's even some railroad tracks nearby, just like the real thing.
As much as I wanted it to be occupied by a colony of super-intelligent tuxedo cats, I knew that wasn't going to be the case. The current tenant turned out to be a enraged super mutant with an equally enraged mutant hound who ended Tanner's odyssey on a poignant and abrupt note.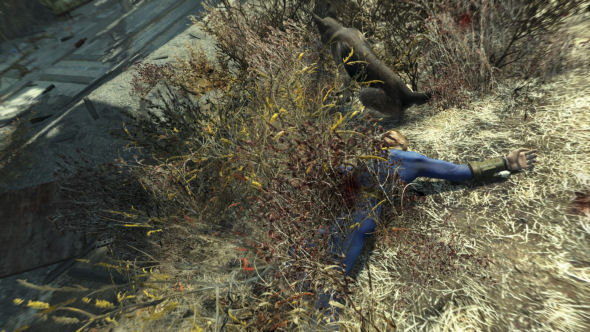 Moral: You can go home again, but it's proabably better if you don't. Especially if you are only level 2 and used up all your pistol rounds fighting mutant crabs.