The period between 1989 and 1994 was an unparalleled buyer's market for used records. Vinyl was out, compact discs were in, and the shops were flooded with the discarded byproducts of consumers' rush to go digital.
Forty years of pop music recordings, and all but selected imports and legitimate rarities going for less than a fiver. I had the opportunity and means to take advantage of this one-in-a-lifetime set of circumstances…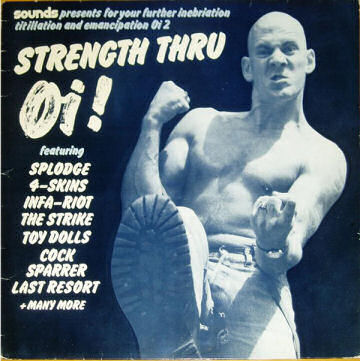 …too bad I was a dumb punk rocker who gravitated to crap like this greasy pun on a Nazi slogan. (Way to lean into the ugliest aspects of media stereotype, lads.)
Fun Fact: I've never been understood why the Oi crowd was so eager to embrace the goofiness of the Toy Dolls, but their inclusion on the compilation was its sole redeeming feature.